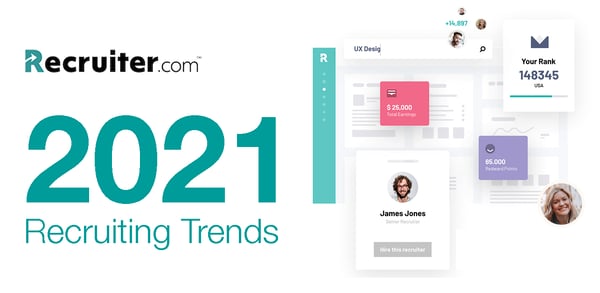 This year was indeed an incredible time to be in the recruiting business. Many of us froze for a moment back in April when we saw drastic changes in hiring patterns — jobs being put on hold en masse and entire economic sectors retrenching into survival mode. We saw many friends in talent acquisition and recruiting tech companies displaced. The reverberations from this shake-up are still with us; we all know people who changed careers or have not yet found suitable opportunities.
For the most part, though, our industry and profession made it through stronger than ever. Anecdotally, most of the recruiting solution companies I speak with are reporting a return to strong growth. Our company has many more jobs, clients, and opportunities now than it had going into the pandemic. The type of demand has changed, but overall, we're working on a higher volume of positions.
Our Recruiter Index survey, which we recently discussed on CNBC, also gives us great confidence in our overall sector. Although seasonal hiring trends and concerns about the virus's winter impact are driving some short-term negative sentiment, there is a lot of optimism 90 days out. It is then that we will begin the great re-hiring of 2021 and a return to a completely open economy.
Here are some of my thoughts on the top recruiting trends for next year. As someone deeply entrenched in the business from day to day, I rely heavily on my personal experience and conversations for this post.
1. On-Demand Recruiting
Many employers reduced their talent acquisition teams at the first sign of trouble, shifting larger workloads to fewer people. Of course, many large organizations froze all hiring altogether, moving their talent acquisition teams into general HR functions or making deep cuts to the TA function. When hiring in specific sectors returned — and in some cases, even accelerated — many companies were caught drastically short-staffed. Recruiting consultants and recruitment process outsourcing (RPO) businesses are now stepping in to fill the gaps and growing their businesses rapidly.
Although many employers experienced the negative consequences of their perhaps short-sighted decisions to lay off talent acquisition staff, I feel they will be relatively slow to hire new full-time staff due to general expectations of continued volatility. Therefore, next year, I foresee accelerated growth in on-demand recruiting services that allow for flexible hiring, shorter commitments, and the ability to scale up and down quickly.

For more on this trend, see our follow-up piece: 10 Reasons Why On-Demand Recruiting will be the Most Important Talent Acquisition Trend in 2021
2. On-Demand Labor
The flip-side of on-demand recruiting is on-demand labor. The gig economy roared during the pandemic and created, for many people, somewhat of a safety net, as the option to do gig work is always available. The pandemic also exposed a painful divide in employment, as information workers easily migrated to remote work in their homes' safety; in contrast, gig workers actively worked in the community, serving local customers in person. People also flocked to online marketplaces for independent work, allowing them to create more multi-employer income streams than ever before.
I believe employers will continue to tap into online talent marketplaces next year, and many will reshape their businesses to be lighter-touch and on-demand. On-demand labor growth shows signs of eventually enveloping a majority of employment, and 2020 certainly accelerated that trend.

3. Video
Since we launched Recruiter.com Video this year, noting this trend may seem self-serving. Truthfully, we launched Video because of these headwinds. The ubiquity of remote work and our sequestered home lives catapulted Zoom to verb status, following in the footsteps of Google and Slack. Now, people expect to be on video, and employers will seek more ways to use video to mitigate the potentially deleterious effects of remote work on engagement. Magic Leap recently pivoted to enterprise augmented reality to capture this same opportunity presented by organizations looking to bring their workforces together in new ways.
Inserting video into your hiring process used to be seen as putting up a barrier to applicant conversion. Now, it's practically an expectation. We see employers relying on video to shorten screening processes, accelerate hiring, and bring people together across different locations. Further, we see video as a way for employers to glean new data around diversity and other employment practices and issues.
4. Workforce Transparency
The political climate and pandemic have cast a sharp light on human capital practices . From the use of gig labor to the 1099 status of Uber drivers, how companies get things done with people was a real topic of discussion this year. In addition, diversity issues were brought to the forefront. For example, Nasdaq recently signaled a requirement for listed companies to ensure diversity on their boards or explain their reasons for a lack thereof. If national marketplaces and other large groups of companies self-mandate certain diversity practices for their members, this will cause a dramatic propagation of those practices throughout the economy.
Human capital practices, such as the use of W2/1099 labor, diversity, and compensation, will likely become standardized as reportable metrics. The importance of talent acquisition as a department or function in a company should rise as its impact on reportable and potentially mandatory metrics becomes clear. Recruiting leaders should adopt technologies and practices that translate into digestible data and metrics, and they should push for using this data in constructive ways.

5. Artificial Intelligence
The AI that people fear, professionally, is the general AI: the AI that replaces the holistic, multifunctional activities of an entire profession. In recent years, I believe that fear has mostly subsided. In recruiting, AI has proven best used in particular applications. For example, AI can assist in ranking a slate of candidates against an open job. However, a human then reviews the slate of ranked candidates. In another example, AI can analyze the tonal qualities and inflections of a candidate's recorded interview, but yet again, a human accesses the implications of that analysis.
AI in recruiting is beneficial, and our company is investing in many ways to use it in these types of very specific applications. However, recruiting itself may be one of the last professions facing true machine-disruption, given that the expertise of recruiters lies in interpreting people and matching them together. In 2021, we may see that AI becomes less of a buzzword and more of an expected part of any HR/recruiting technology system. I expect that AI-enabled systems will be applied to many different, highly specific recruiting functions, creating a diverse landscape of vendor tools and services. Also, I expect that AI will become more broadly used for internal assessment of a company's workforces, mainly due to remote work reducing the internal knowledge of employee's traits and qualities.
I am looking forward to the new year as one of recovery and relief from the pandemic as our country reopens. People practices seem to be at the center of every conversation this year, and overall, I look for this to continue in 2021. This next year, expect business technology and compliance to be shaped by talent acquisition instead of the other way around. Altogether, recruiting and talent acquisition should be called to greater prominence than ever before, and we, in the profession, have a chance to make a profound impact.
Make sure to attend our special upcoming on demand recruiting webinar to discuss my #1 recruiting trend - how and why on demand recruiting will transform talent acquisition in 2021.