We've heard it so often over these past nine months that it has almost become pure platitude, but still it bears repeating: COVID-19 changed everything, from the way we shop for groceries to how and where we work. And while every facet of business has been altered in some way, perhaps no function has been so fundamentally reshuffled as talent acquisition.
One key trend we're likely to see a lot more of: on-demand recruiting, which we recently spotlighted as the #1 recruiting trend for 2021. If the pandemic taught us one thing, it's that agility is the key to surviving whatever the world throws at a business. As the pandemic subsides and the economy begins to reopen — albeit unevenly — on-demand recruiting can grant companies the flexibility they need to not just survive 2021, but thrive. Here's why:
1. Where Did My Talent Acquisition Team Go?
Businesses had to let millions of people go in 2020 just to keep the lights on, and with a third of companies freezing new hires in the early months of the pandemic, many organizations chose to make cuts to their talent acquisition (TA) teams. After all, they wouldn't be acquiring talent any time soon.
Now, with vaccines on the horizon, a return to full economic activity finally seems possible. There's just one problem: After letting so many of their TA specialists go, how will organizations staff back up to take full advantage of a reopened economy?
That's where on-demand recruiting comes in: Companies can quickly restaff their TA functions without having to go through the whole process of hiring new full-time internal recruiters. Instead, employers can jump right to staffing up other key functions that may have taken a headcount hit.
2. No One Knows What the Future Holds
Experts estimate the vaccine rollout could take more than a year, which means the immediate future is likely to be as volatile as the preceding months have been. But companies can't just wait it out. If they want to be ready to seize new opportunities as they arise, they have to start planning their post-pandemic moves now.
Yet some caution is warranted: A company could staff back up, only to be hit with lockdown orders once again. The outbreaks of fall 2020 made this possibility all too clear.
Hiring a full-time, in-house talent acquisition team carries significant risk in this environment, as there's no telling whether you'll still need that team in a month or two. On the other hand, you can leverage on-demand recruiters when you need them — and scale back when you don't. Engaging on-demand recruiters now can prepare a company to react successfully to whatever comes next.
3. Scale Up or Stand Down — Anywhere in the World
Hiring needs are rarely consistent in even the best of times; the pandemic has only exacerbated this. But on-demand recruiting is, well, on demand: A company can engage as many recruiters as it needs when it needs them, and then scale the team back when demand for talent declines. It's not the same kind of commitment that comes with a full-time, in-house TA pro, whom you'll be paying regardless of how many hires you need.
The pandemic also brought about the large-scale virtualization of recruiting, with most sourcing, screening, and hiring now taking place over the internet. That's likely to persist in 2021, with 82 percent of hiring managers reporting they plan to continue hiring virtually even after the pandemic ends.
Virtual hiring can open up whole new swaths of the talent market to employers — but tapping these new talent pools isn't necessarily easy, especially if you're recruiting in unfamiliar geographical territories. Talent supplies and expectations can vary widely from city to city and state to state.
On-demand recruiting is well-suited for the challenges of virtual recruiting, because your talent acquisition team can be as distributed as your candidates. If you need someone who knows the talent market in, say, Atlanta, you can get a recruiter who does — even if you're based in Kalamazoo.
4. Who Will Recruit the Recruiters?
As you've likely noticed by now, companies are in an interesting position heading into 2021. They need to be poised to move as soon as the economy reopens, but they also need to proceed with caution, lest the pandemic have any more surprises in store.
On-demand recruiting can help a company get cautiously proactive with its TA team by, effectively, giving you the option to try a recruiter before you buy one. As in: You can engage an on-demand recruiter, and if they turn out to be a great fit, you can hire them full-time. You're killing two birds with one stone — building out your TA function while staffing up the rest of the organization — and you don't even have to take any major financial risks to do it.
5. Ready, Set … Recruit!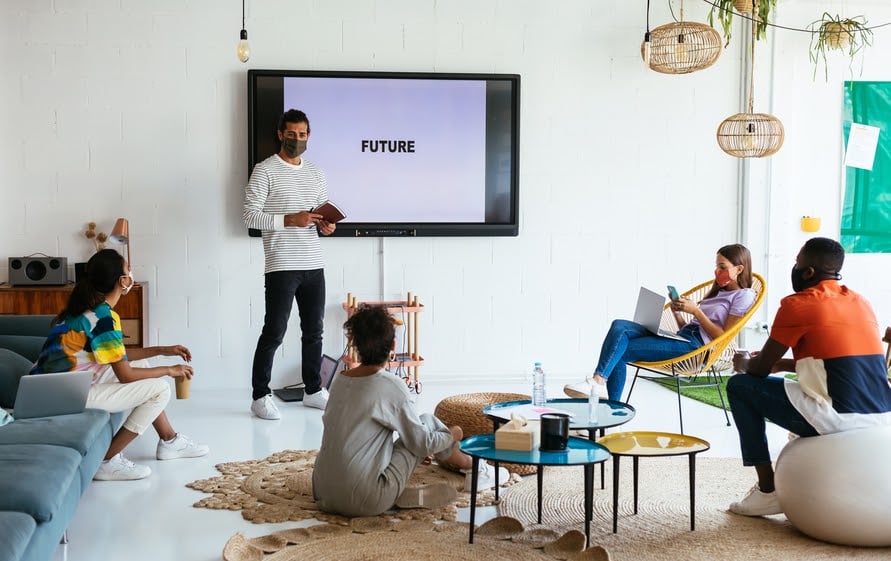 When the economy finally reopens, those companies that move the fastest will be positioned to hire top-tier talent. We know the best candidates do not last long on the market, and the likely ferocious post-lockdown competition only means they'll be snapped up even sooner.
What on-demand recruiting offers is a way to quickly augment a hiring team on a moment's notice. While other employers are still getting their TA teams squared away, your company can get straight into the talent market. It's just the leg-up many organizations may need in the post-pandemic rush.
6. Stretch Your Recruiting Dollars
The pandemic has not been kind to company wallets, but recruitment is a fundamentally expensive undertaking. The average hire costs about $4,000; more specialized hires can double or triple the price tag. Yet cutting corners to save recruitment dollars is usually a bad idea: The integrity of your hiring process is likely to suffer, and you'll end up with a pipeline full of bad fits.
One advantage on-demand recruiting has is that you only pay for the recruiters you need when you need them. You're never paying for downtime or training. You simply hire recruiters, they get to work, and you pay a flat fee. That means every dollar spent on a recruiter is actually going to recruiting, period. With companies being much more budget-conscious in the wake of COVID-19, on-demand recruiting is likely to be a popular option.
7. Armed to the Teeth
Continuing with the bang-for-your-buck theme, on-demand recruiting helpfully rolls two investments into one. When you engage on-demand recruiters, you're not just paying for talent acquisition professionals — you're also paying for the wide array of tech tools they have access to.

When you build an in-house TA team, you're responsible for not just paying your recruiters, but also training them and supplying them with all the necessary tools. Those expenses quickly add up — and in a post-pandemic economy, such costs are likely to be prohibitive for many companies. On-demand recruiting could level the playing field by giving every company, regardless of budget, the chance to leverage cutting-edge recruiting technology, like AI-powered candidate matching and video interviews.
8. Talent Acquisition With a Real Purpose
When hiring an in-house TA team, most companies focus on hiring generalists, people who can recruit for a variety of roles with moderate success. Sometimes, though, a generalist isn't what you need. Can a generalist source for that super-specialized AI-savvy developer role? Would they even know where to start looking for candidates?
On-demand recruiting can be a way to access the exact recruiting expertise you need when you need it. And that extends beyond expertise in a particular domain. Need help with your general sourcing? Hire an on-demand team of dedicated sourcers.
This flexible access to specialized skills fits into a broader workforce trend also accelerated by COVID-19: the increasing use of gig and contract labor over standard employees. More and more companies are choosing to close skills gaps by leveraging contract labor on an as-needed basis, and there's little reason to believe recruiting would be immune to this trend — especially not after the pandemic.
9. Each One Teach One
When you bring on-demand recruiters into the fold, they'll work alongside your existing talent acquisition team, who will likely learn a thing or two. While collaborating with on-demand recruiting experts, your internal TA pros can pick up tips and tricks they'll carry forward into their future recruiting efforts. And that training is delivered on the job, meaning you don't have to hit pause on your hiring efforts to send recruiters to a seminar. With the post-pandemic landscape shaping up to be a fierce one, few employers will be able to afford taking such timeouts.
10. The More You Know
During the pandemic, companies learned the value of having total transparency into every function. When organizational leaders clearly understood their operations and outcomes, they could make more-informed decisions about when and how to pivot. In 2021, it's likely organizations will be relying on metrics like never before.
You might think an in-house TA team would be more amenable to such data-driven oversight, but that's not necessarily true. To get that level of transparency, a company first has to build systems that facilitate it. On-demand recruiters, on the other hand, have oversight baked in. Most on-demand teams offer robust reporting capabilities to help clients keep track of time used and results delivered.
What gets measured gets managed — and with employers looking to measure and manage as much as they can in 2021, we could very well see a surge in on-demand recruiting.
—
With remote work opening up brand new talent pools and virtual hiring processes introducing innovative sourcing and screening capabilities, companies around the world are reimagining who, where, and how we recruit as we head into 2021. On-demand recruiting is likely to play an outsized role in talent acquisition strategies going forward.
No one can say for sure what the future holds, but on-demand recruiting offers the kind of flexibility companies will need to navigate a year full of surprises — and 2021 is bound to be such a year.