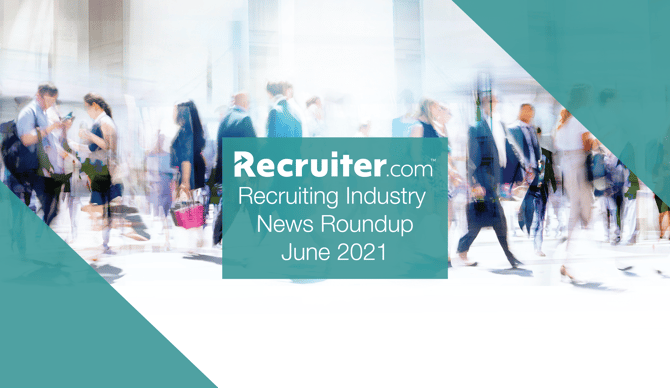 Welcome to Recruiter Roundup, where we take a monthly look at the most exciting recruiting and HR industry news.

What's New at Recruiter.com
Recruiter.com is now a publicly traded company on the Nasdaq (NASDAQ: RCRT)! Hear from our founder and COO, Miles Jennings, about what that means for the next stage of Recruiter.com's growth.

The June 2021 Recruiter Index®, our monthly survey of Recruiter.com's network of more than 28,500 independent recruiters and talent acquisition specialists, found that candidates are growing less interested in new job opportunities, spurring many employers to raise salaries and turn to recruiters for help. Recruiter.com Chairman and CEO Evan Sohn appeared on CNBC's

The Exchange

to talk more about the results of the latest Recruiter Index®:


Recruiting Industry Investments / M&A Activity
Must-Read Reports
Company News
Are you interested in having your company featured in this recruiting industry report? Send an email to our editor, matthew@recruiter.com, with your company's news or announcements. Our regular publication, RecruiterToday, also features thought leadership from recruiting and talent acquisition professionals and accepts content contributions.