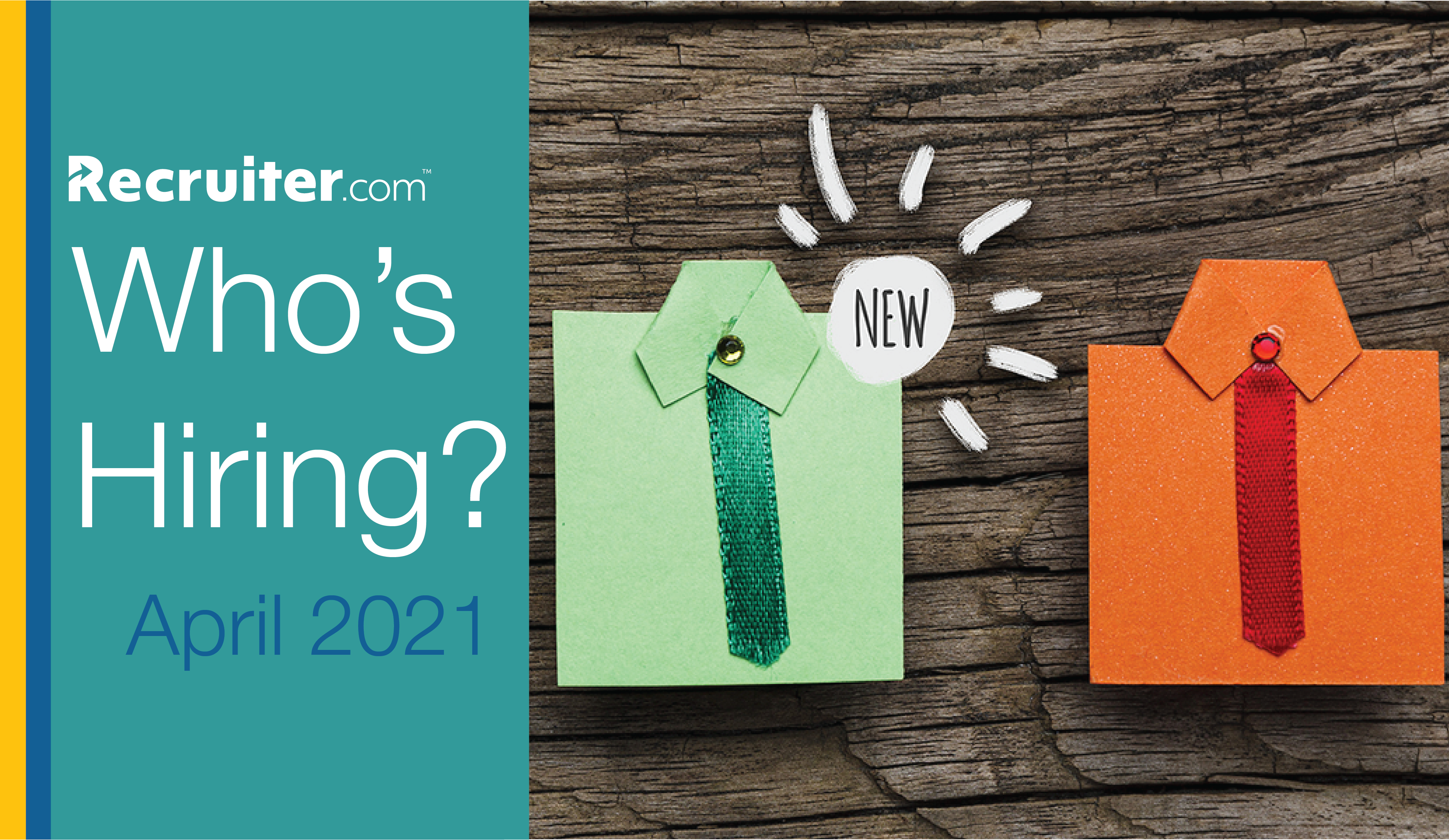 The March Recruiter Index® and the March jobs report agree: After nearly a year of turbulence, the job market is on the mend. Opportunities are opening up — although, as always, you have to know where to look if you want to find companies actively hiring today.
Here's our list of who's hiring in April of 2021:
Who's Hiring at Recruiter.com?
Data from Scouted.io, a Recruiter.com company, shows employers across industries, from high-growth startups to boutique hedge funds, are increasingly looking for talent executives. Think: head of talent, chief people officer, SVP of talent, etc. Scouted has also noted an influx of chief of staff roles at rapidly scaling startups. Head to Scouted.io to find more roles that fit you.
Recruiters, want to earn money by helping us fill these open roles? Head over to the Recruiter.com Job Market Platform today.
Employers, get help filling your roles with Recruiter.com, leveraging the power of 27,000 recruiters, AI job matching, and video screening. Learn more today.
Who's Hiring Across the Country?
Amazon:

With close to

50,000 open roles on LinkedIn, the eCommerce giant's never-ending hiring spree is, well, not ending anytime soon.
Advance Auto Parts: The automotive parts retailer is hiring for 14,000 open roles, including drivers, salespeople, and video producers.
Accenture: The global professional services company has nearly 9,000 open roles to fill, including business analysts and technical specialists.
Marriott International: As the hospitality industry begins its recovery, the hotel chain is hiring for 5,000 roles like chef, massage therapist, and waitress.
KinderCare Learning Centers: Education was one of the hottest industries in the March jobs report from the Bureau of Labor Statistics (BLS), so it's no surprise this provider of early childhood education has 3,000 open jobs listed on Indeed, ranging from teachers to center directors.
Johnson & Johnson: The pharmaceutical corporation is looking to make more than 2,000 hires to fill roles like communications manager and project director.
U-Haul: The do-it-yourself moving company is advertising more than 2,000 open roles on LinkedIn, including office clerks and marketing coordinators.
IBM: With nearly 2,000 open roles, the tech multinational needs software engineers, procurement professionals, and more.
Chewy: The pet-focused online retailer plans to fill about 1,000 open roles, ranging from executive assistants to warehouse workers.
EY: The Big Four accounting firm has about 500 open roles on Monster, ranging from junior marketers to senior consultants.
Where Else to Look: