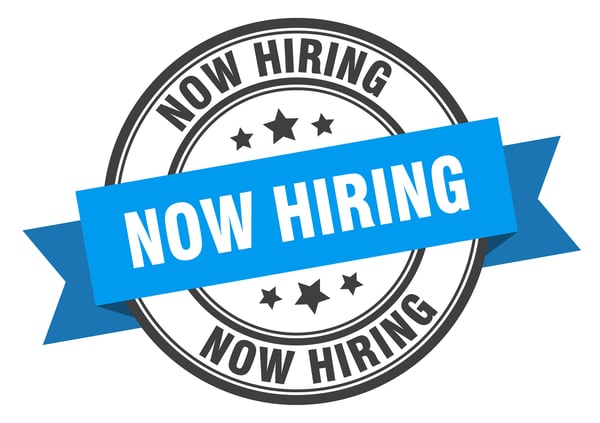 The recruiting community is front and center in the nation's fight to keep people employed and place talent where it's most needed. At Recruiter.com, we're rapidly mobilizing our network by launching a webinar for recruiters and also have created a new candidate community for displaced workers to be informed of new jobs. We've uncovered many insights into the current job market, including many companies that are massively hiring.
The Covid-19 pandemic is quickly transforming the job market in unexpected and unprecedented ways. Alongside a spike in unemployment claims — up by 70,000 last week, with more likely on the way — we're experiencing massive pockets of hiring on scales we've never seen before.
Life-sustaining industries like grocery stores, pharmacies, and healthcare are staffing up to meet surging demand, while quarantine-friendly sectors like shipping and delivery, eCommerce, and online learning are also booming.
Here's a list of who's hiring right now:
Amazon is hiring 100,000 workers for its fulfillment and delivery network — and even raising wages to attract more employees.

Dollar Tree is hiring 25,000 workers for both its stores and its distribution centers.

7-Eleven is hiring 20,000 workers across 11,800 US convenience stores.

Video-conferencing company Zoom plans to grow its workforce by 9 percent in the coming weeks.

GE Healthcare is ramping up manufacturing and related jobs, to meet demand due for life-saving medical devices.

Domino's is hiring 10,000+ workers to staff stores and make deliveries. Papa John's is also hiring 20,000 restaurant team members.


Walmart plans to hire 150,000 workers for roles in stores, distribution centers, and delivery networks.

CVS is hiring 50,000 workers for its stores, delivery networks, and distribution centers, even beefing up its benefits offerings to get them.

Walgreens is hiring 9,500 new employees for its US stores.

Publix supermarkets plan to hire thousands of new employees in customer service and distribution center roles.

PepsiCo indicated that it plans to hire 6,000 front-line employees and is enhancing certain benefit programs

Costco is hiring workers for distribution center and stocking roles.

Kroger, which also owns the Ralphs, Food4Less, and Fred Meyer brands, is hiring 10,000 employees for customer service, manufacturing, and distribution center jobs.

FedEx is hiring full-time and part-time warehouse and delivery workers.

Instacart is hiring tens of thousands of full-service shoppers over the next few months.

Raley's supermarkets are hiring warehouse workers.

Digital communication and collaboration platforms like Slack and Microsoft Teams are aiming to increase headcount to deal with increasing usage of their products.

Hospitals and medical facilities around the country are hiring for numerous roles; in New York City alone, hospitals brought more than 1,000 doctors and nurses on board in a single day.

Online learning company Outschool is seeking thousands of teachers to meet online schooling demands.

Aldi supermarkets are hiring for all stores and all warehouse locations.

Mobile payment companies Square and PayPal are boosting headcount in anticipation of surging online payments.

Lowe's hardware stores are hiring thousands of employees for in-store and distribution center roles.

Facilities management firm Atalian is searching for janitors, cleaners, porters, technicians, maintenance staff, and operators across the country.

Clinical laboratory Quest Diagnostics is searching for more than 1,000 employees for roles like phlebotomist, pathologist, and client services rep.
Fast Facts: What Industries Are Seeing the Biggest Demand?
Overall, Glassdoor reports that job postings created in response to the coronavirus outbreak have tripled since the beginning of March. Thirty-two percent of those jobs were created directly by healthcare, biotechnology, pharmaceutical, and nonprofit companies. An additional 34 percent of those jobs are being created by staffing and recruiting firms working to fill high-demand, high-volume contract positions for clients.
Here are 10 particular industries seeing significant growth right now:
1. Fulfillment, Shipping, and Warehousing: ZipRecruiter reports a 2,736 percent growth in demand for "warehouse handlers" and a 2,009 percent increase in demand for "warehouse attendants," according to Forbes.
2. Nursing: Glassdoor reports job posts for registered nurses have tripled.
3. Telemedicine: Telemedicine jobs are up by 125 percent, according to ZipRecruiter.
4. Pharmacy: Indeed reports a 9 percent jump in pharmacy postings over last year.
5. EMTs: EMT roles are up by 23 percent, according to ZipRecruiter.
6. Social Workers: According to Glassdoor, social worker roles account for 6 percent of new job postings created in response to the outbreak.
7. Shoppers: Shopper jobs grew by 293 percent, according to ZipRecruiter.
8. Cleaning Services: Demand for cleaning professionals grew by 49 percent, according to ZipRecruiter.
9. Communications Associates: Communications associates comprise 7 percent of coronavirus-related job openings, according to Glassdoor. Organizations are largely looking for people who can help communicate information about the pandemic to the public.
10. Childcare: Indeed notes an 8 percent jump in childcare jobs over last year.
Recruiter.com
We look forward to updating this list of companies hiring now as we hear of employers with significant open jobs.

Job seekers, please join our candidate community to be informed of new jobs.
Recruiters, sign up for our next webinar for recruiters to learn about recruiting opportunities with Recruiter.com.
Employers that are hiring now, please learn more about our professional, high-volume hiring solutions.