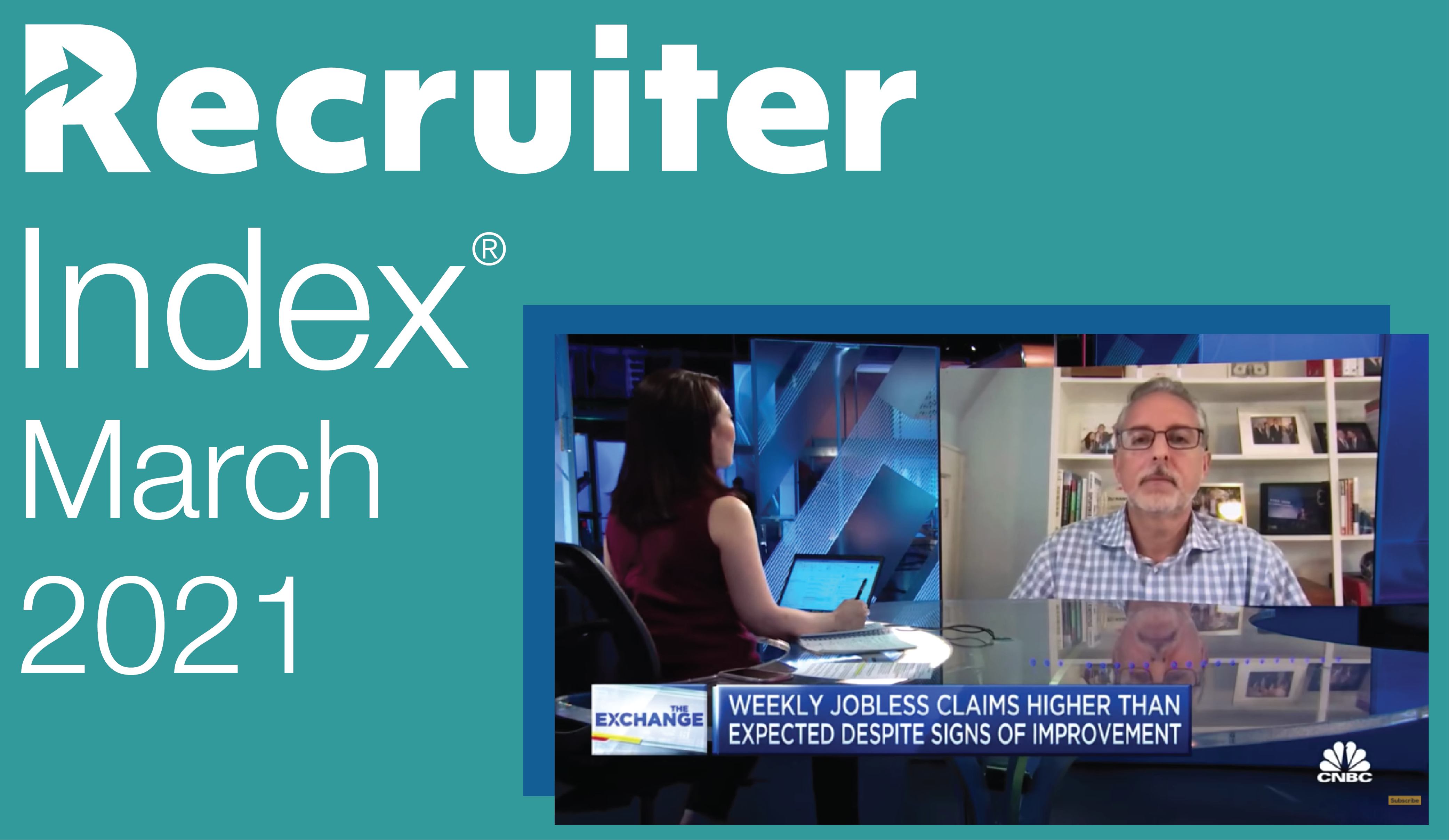 The Recruiter Index®, Recruiter.com's monthly survey of its network of more than 28,000 independent recruiters and talent acquisition specialists, has for the past 12 months consistently predicted the Bureau of Labor Statistics (BLS) jobs report before it comes out. March's edition of the survey is no different: Recruiters told us March's job market was an improvement over February's, and today's jobs report confirms as much.

Recruiter.com CEO Evan Sohn appeared on CNBC's The Exchange to discuss the March 2021 Recruiter Index® results in more depth. Watch the interview below:
Recruiter Index® vs. BLS Jobs Report: Comparing the Data
Sixty-two percent of the recruiters we surveyed said March's job market was hotter than February's, and the latest BLS data concurs. The US added 916,000 jobs in March, compared to 379,000 in February.

Recruiters also told us demand for talent was particularly high in the logistics/supply chain, skilled trades, manufacturing, and customer service/retail fields. The BLS jobs report noted growth in these areas, too:
Transportation and warehousing: Added 48,000 jobs

Construction (including specialty trade contractors): Added 110,000 jobs

Manufacturing: Added 53,000 jobs

Retail trade: Added 23,000 jobs
Another interesting note from the BLS: Remote work is becoming less common. Twenty-one percent of employed persons teleworked in March, compared to 22.7 percent in February. This downward trend might help explain a data point from the March 2021 Recruiter Index®: According to our recruiters, compensation is now the top priority for candidates when considering a new role, overtaking remote work, which had held the No. 1 spot for the previous three months. As pandemic-induced restrictions lift, more workers are returning to the office and more in-person jobs are opening back up. Remote work arrangements may be a little harder to obtain now, hence the increased focus on compensation.
But the BLS data does identify some trends our recruiters didn't. For example, leisure and hospitality (+280,000 jobs) and education (+190,000 jobs) were two of the fields that saw the most job growth. Very few of our recruiters pointed to these fields as especially active in March. Similarly, our recruiters named IT and healthcare as two of the most active fields, but the BLS data shows little change in employment in these sectors. These disparities could be a matter of differing sample populations: The recruiters in our network may not be as active in hospitality and education, and they may be more active in IT and healthcare.
You can help us make the next Recruiter Index® even more accurate. Take the April 2021 survey now.
Download your own copy of the March 2021 Recruiter Index® here.