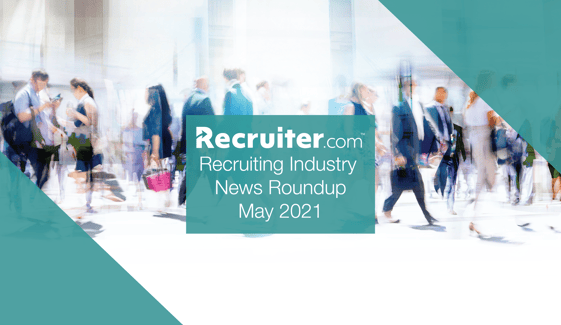 Welcome to Recruiter Roundup, where we take a monthly look at the most exciting recruiting and HR industry news.
What's New at Recruiter.com
Recruiter.com announced a partnership with

KarmaCheck,

bringing innovative and streamlined candidate screening tools to the growing Recruiter.com Marketplace.

We announced our Q1 2021 financial results, showing a 39 percent increase in revenue from Q4 of 2020.
We launched the First Jobs Initiative to match employers with pre-vetted, motivated applicants who are eager to start their careers.
Recruiting Industry Investments / M&A Activity
Must-Read Reports
Company News
Legal and Regulatory News
The Equal Employment Opportunity Commission rules that employers are allowed to require employees to receive COVID vaccinations. (source)
Upcoming Events
Jobvite's second annual Summer to Evolve program begins June 8, 2021. (source)
Are you interested in having your company featured in this recruiting industry report? Send an email to our editor, matthew@recruiter.com, with your company's news or announcements. Our regular publication, RecruiterToday, also features thought leadership from recruiting and talent acquisition professionals and accepts content contributions.