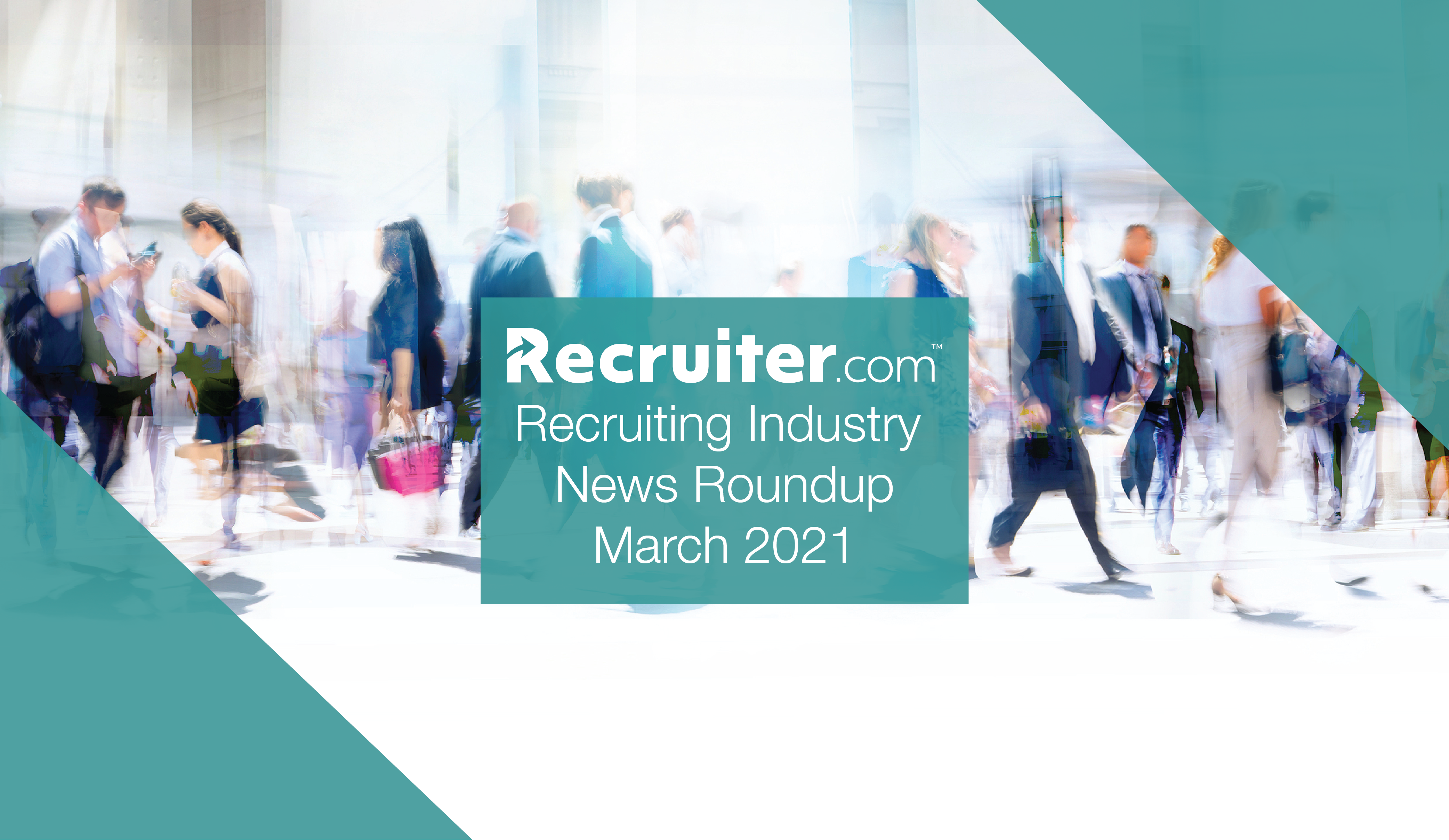 Welcome to Recruiter Roundup, where we take a monthly look at the most exciting recruiting and HR industry news.
What's New at Recruiter.com
Recruiter.com welcomes two new members to our board of directors: Executive Vice President of RPX Corporation Robert Heath and Workhuman CHRO Steve Pemberton.
Recruiter.com acquired Upsider.ai,

an artificial intelligence sourcing software that automates candidate identification and engagement to help employers make the best hires. Upsider cofounder and CEO Josh McBride joins Recruiter.com as Senior Vice President. Xuan Smith, cofounder and CTO of Upsider, joins as Vice President.

We launched the Recruit Me campaign highlighting how a video-first approach to recruiting can play a key role in the Great Rehiring of America by dramatically reducing hiring costs and improving the overall hiring experience for candidates, recruiters, and employers alike. As part of the campaign, Recruiter.com is partnering with National Retail Solutions to bring video interview capabilities to thousands of retail employers nationwide.
We reported our annual financial results for 2020. Revenue grew 41.6 percent year over year, with fourth-quarter growth of more than 22.3 percent.
Small and independent recruiters in our network can now take advantage of

QuickFee's

flexible-term and interest-free payment solutions

through the Recruiter.com Marketplace.

Our 12th Recruiter Index® survey once again called the job market before the Bureau of Labor Statistics report.

Sixty-two percent of the recruiters we surveyed

said March's job market was hotter than February's. The US ended up adding 916,000 jobs in March, compared to

379,000 in February

. Recruiter.com CEO Evan Sohn appeared on CNBC to talk through the results. Check out the video below:
Recruiting Industry Investments / M&A Activity
Must-Read Reports
Company News
Legal/Regulatory News:
The US Securities and Exchange Commission has modified its disclosure rules for the first time in three decades. Under the new rules, public companies must share details about a wide range of human capital metrics, including employee development, attraction, engagement, and retention. (source)
The Pregnant Workers Fairness Act, currently under consideration in the US Congress, would strengthen protections for pregnant workers. While the bill has failed to garner enough support in the past, experts suggest it just might become law this time. Employers should keep a close eye on the proceedings. (source)
Are you interested in having your company featured in this recruiting industry report? Send an email to our editor, matthew@recruiter.com, with your company's news or announcements. Our regular publication, RecruiterToday, also features thought leadership from recruiting and talent acquisition professionals and accepts content contributions.