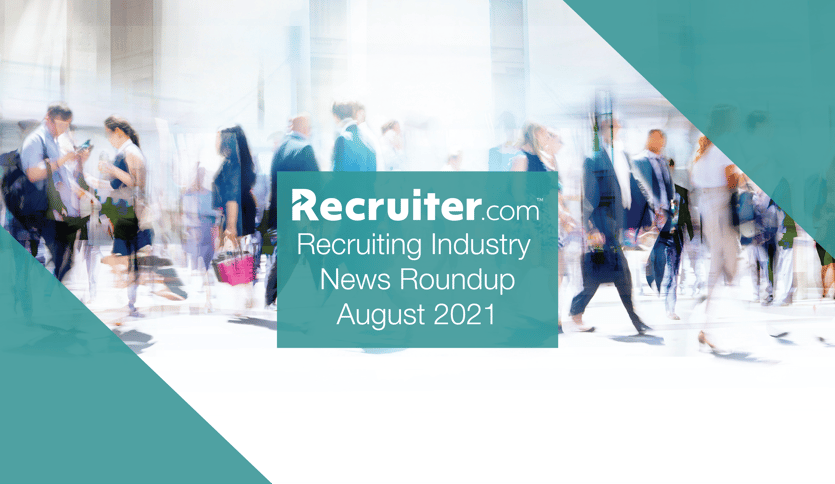 Welcome to Recruiter Roundup, where we take a monthly look at the most exciting recruiting and HR industry news.
What's New at Recruiter.com
Recruiter.com acquired Novo Group, Inc., a provider of flexible talent acquisition to a wide array of customers, including life sciences, manufacturing, and consumer goods. Novo Group COO Michael McElherne joins Recruiter.com as SVP of On-Demand Delivery, along with talented sales, delivery, and customer support staff from the Novo team. Read more about the acquisition here.
Recruiter.com posted its second-quarter 2021 results. Revenues rose 38 percent quarter-over-quarter and 81 percent year-to-date. Recruiter.com's on-demand recruiting service also grew 88 percent quarter-over-quarter. Net profit was $3.5 million, or $.99 per share, for the quarter. For more information, listen to the company's Q2 earnings call here.
Recruiter.com CEO and Chairman Evan Sohn appeared on both Yahoo Finance and CNBC to discuss the July 2021 Recruiter Index® results and the broader post-pandemic job market. Sohn also joined Rob Stevenson on the

Talk Talent to Me

podcast

to talk about the "Golden Age of Recruiting."
Recruiting Industry Investments / M&A Activity
Must-Read Reports
Company News
Legal and Regulatory Updates
New York City's Fair Chance Act went into effect, greatly expanding protections for job applicants with criminal backgrounds. Even if your company doesn't hire in New York City, it's worth paying attention to how this plays out: A similar federal-level amendment will go into effect at the end of this year. (source)
Upcoming Events
Global employment conference PANGEO 2021, held by Globalization Partners and sponsored by ADP, IRIS, Ceridian, PayGroup, Sequoia, and activpayroll, runs virtually October 20-22. Learn more.
Are you interested in having your company featured in this recruiting industry report? Send an email to our editor, matthew@recruiter.com, with your company's news or announcements. Our regular publication, RecruiterToday, also features thought leadership from recruiting and talent acquisition professionals and accepts content contributions.