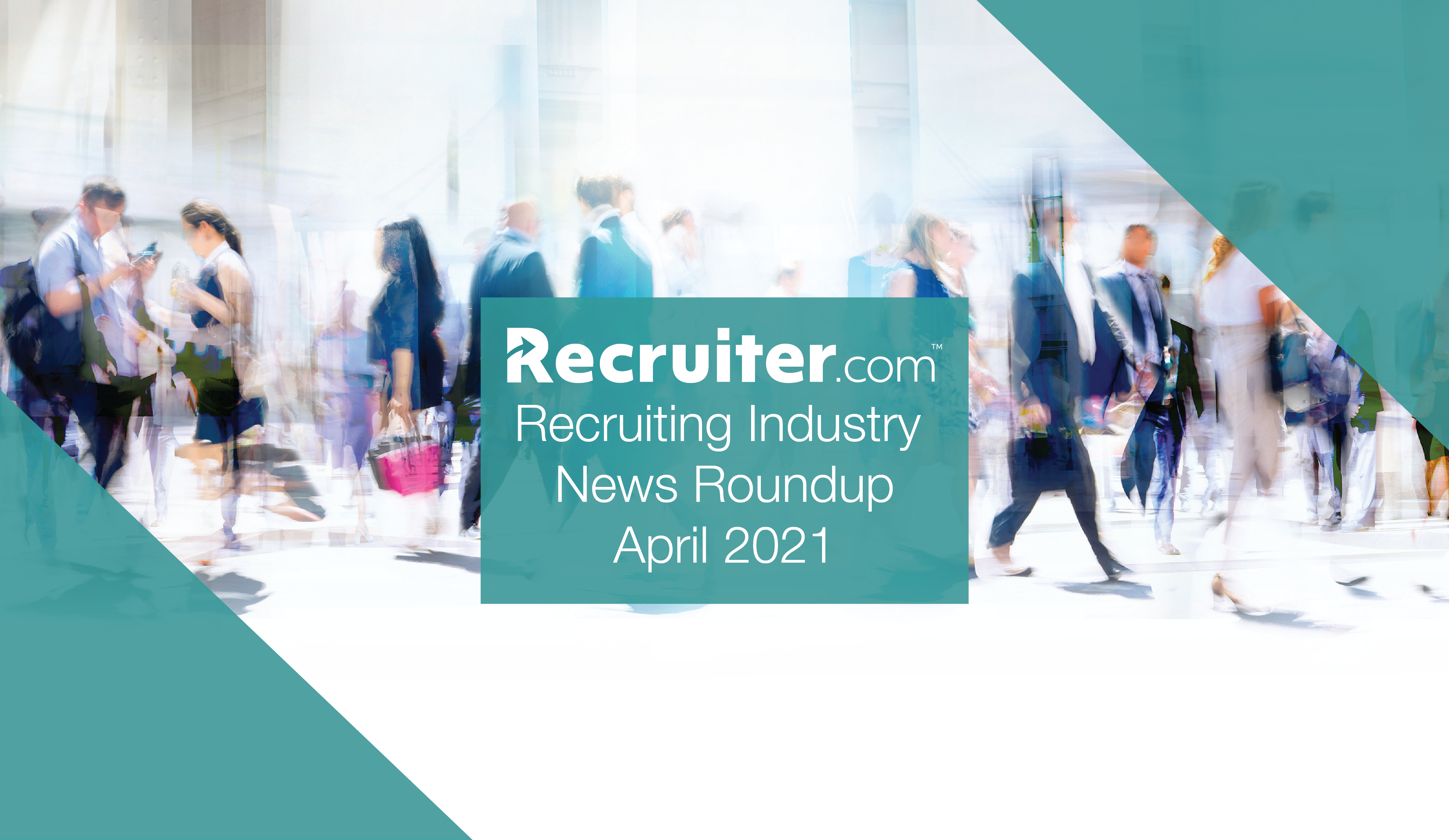 Welcome to Recruiter Roundup, where we take a monthly look at the most exciting recruiting and HR industry news.
What's New at Recruiter.com
Recruiter.com acquired OneWire,

a leading SaaS-based recruiting and sourcing platform that hosts one of the largest communities of professionals in the financial services industry. The acquisition includes the

OneWire SaaS platform

as well as the candidate-matching service

Matchbook.

We also announced a new partnership with WeWork. Recruiter.com is bringing on-demand hiring services to the WeWork startup ecosystem through the Recruiter.com Flex membership, which offers curated high-quality talent to growth-stage startups at less than $500 a month and no minimum commitment. Recruiter.com's customers will receive access to WeWork All Access, a subscription-based product that provides access to hundreds of WeWork locations across the world.
The April 2021 Recruiter Index® showed in-person work outpacing remote roles 2:1. Recruiter.com CEO Evan Sohn appeared on CNBC's

The Exchange

for the 12th month in a row to discuss the Index's results and what they mean for recruiters and employers moving forward. Watch the video below for more details:



Recruiting Industry Investments / M&A Activity
Must-Read Reports
Company News
WeWork announces it will be going public via a special purpose acquisition company, or "SPAC." (source)
TalentQL, a recruiting and outsourcing firm focused on developers in Africa, has been accepted into the Techstars Toronto startup accelerator. (source)
Randstad US launches technology solutions designed to help employers bring workers back to the office. (source)
Dice launches enhanced Career Marketplace. (source)

Mike Sarraille

and

George Randle

, authors of The Talent War: How Special Operations and Great Organizations Win on Talent, announce the appropriately named recruiting and leadership consulting firm Talent War Group. (source)
Stoke introduces new freelance talent search portal. (source)
WillHire and Checkr partner for comprehensive platform integrations. (source)
Lever announces spring features release, including Fast Resume Review and Dynamic Requisition Approver. (source)
Beqom announces compensation automation solution beqom rapide. (source)
Are you interested in having your company featured in this recruiting industry report? Send an email to our editor, matthew@recruiter.com, with your company's news or announcements. Our regular publication, RecruiterToday, also features thought leadership from recruiting and talent acquisition professionals and accepts content contributions.