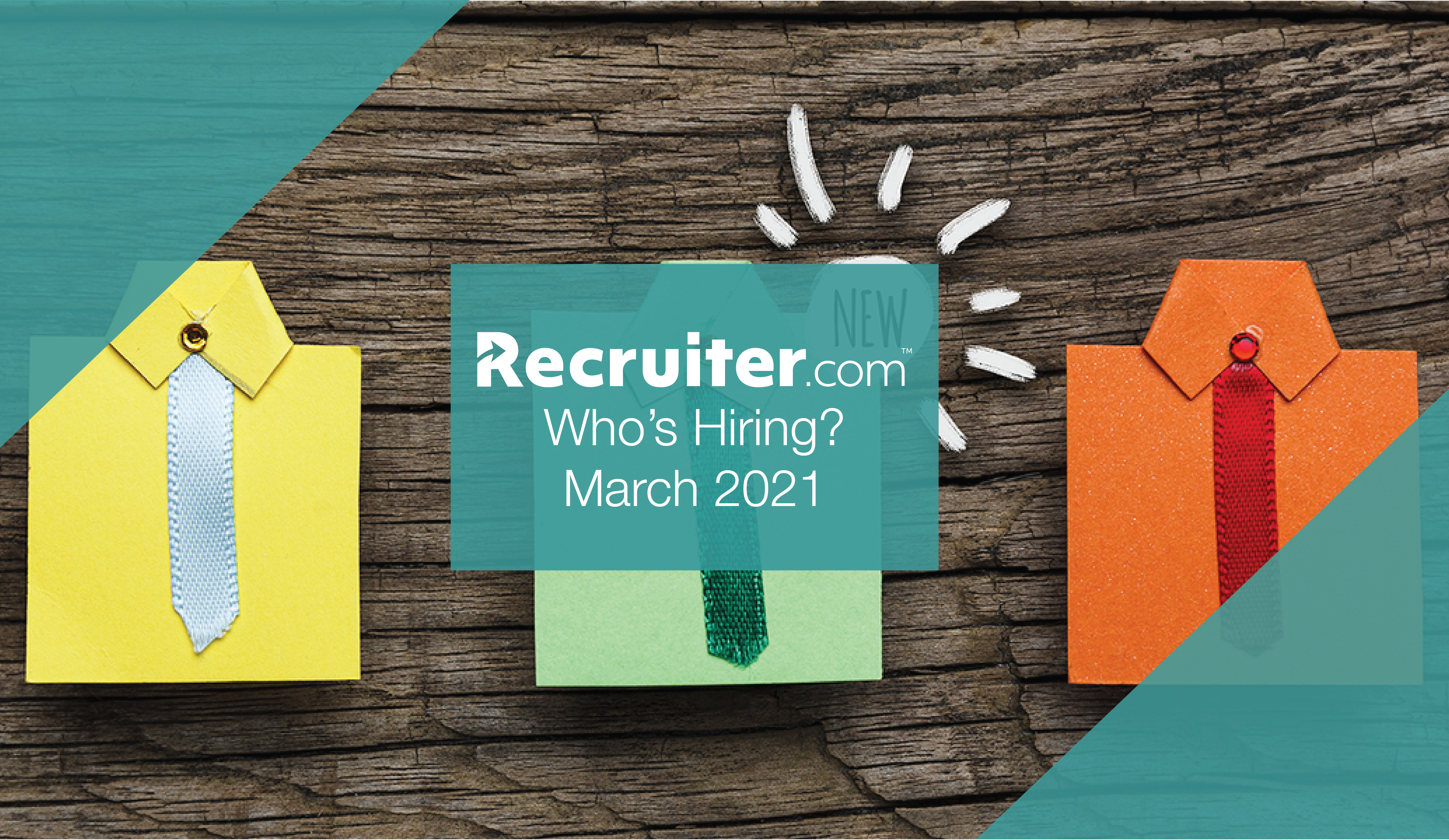 January's jobs report was a complicated one: The unemployment rate fell, but labor force participation also declined, and a comparatively scant 49,000 jobs were added to the economy.
But of course, some companies are actively hiring today. Savvy job seekers just need to know where to look. Here's our list of who's hiring in March of 2021:
Who's Hiring at Recruiter.com?
We're seeing huge demand for contract recruiters through Recruiter.com On Demand,

our flexible, monthly,

on-demand recruiting

solution. That means we're looking to add more on-demand recruiters to our network. We have immediate openings for 1099 contracts of up to six months. Here are some of the roles available now:
Recruiters, want to earn money by helping us fill these open roles? Head over to the Recruiter.com Job Market Platform today.
Employers, get help filling your roles with Recruiter.com, leveraging the power of 27,000 recruiters, AI job matching, and video screening. Learn more today.
Who's Hiring Across the Country?
Amazon:

Is Amazon ever not hiring? The eCommerce giant has

more than 40,000 open roles on LinkedIn alone.
Anthem, Inc.: The health insurance provider is hiring for roughly 100 roles according to Monster, including business development director, regional sales manager, and systems analyst advisor.
Omnicom:

The

marketing communications company is hiring for almost 1000 open roles, including copywriters and content directors.
Intuit: With tax season upon us, it should come as no surprise that Intuit is hiring for thousands of roles, from accountants to bookkeepers to tax preparers.
Allied Universal: The security and janitorial services firm has close to 600 open roles right now, mainly for security officers in hospitals, pharmacies, banks, and schools.
Apple: The tech firm has more than 4,000 open roles, including UX writer, communications strategist, and archivist.
Siemens: The industrial manufacturing firm is filling more than 7,000 open roles around the world, including account executive, risk manager, and software engineer.
Lowe's: With more than 1300 open roles, the home hardware store needs retail associates in nearly every state in the country.
PwC: The Big Four accounting firm has a few thousand roles open on LinkedIn, including proposal writers, consultants, and executive assistants.
Unilever: The multinational consumer goods company has about 200 roles to fill, including material handlers, reliability engineers, and financial analysts.
Where Else to Look: