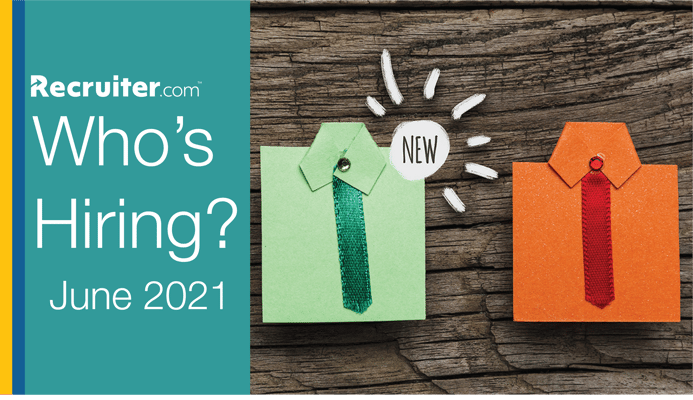 According to the May 2021 Recruiter Index®, employers and recruiters are having a tough time attracting the attention of candidates in today's market. That may be bad news for companies, but it's good news for candidates: The jobs are out there — it's just a matter of finding them. Here's a list of the companies hiring today, at Recruiter.com and elsewhere.
Who's Hiring at Recruiter.com?
We're seeing huge demand for contract recruiters through Recruiter.com On Demand,

our flexible, monthly,

on-demand recruiting

solution. That means we're looking to add more on-demand recruiters to our network. We have immediate openings for 1099 contracts of 3-6 months for recruiters anywhere across the US. Our top needs at the moment include:
Recruiters, want to earn money by helping us fill these open roles? Head over to the Recruiter.com Job Market Platform today.
Employers, get help filling your roles with Recruiter.com, leveraging the power of 28,000+ recruiters, AI job matching, and video screening. Learn more today.
Who's Hiring Across the Country?
Where Else to Look:
Indeed curates an extensive list of companies hiring now.
JobScan runs

a continuously updated list

that covers openings at a lot of smaller companies, which tend to be absent from the lists put out by the bigger platforms.