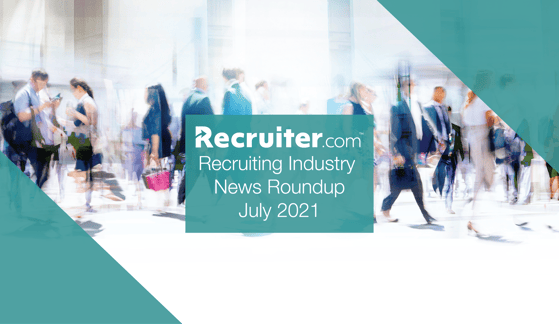 Welcome to Recruiter Roundup, where we take a monthly look at the most exciting recruiting and HR industry news.
What's New at Recruiter.com
Recruiter.com acquired

the Technology Solutions Division of recruitment technology company

Uncubed, bringing the software and team behind Uncubed's talent community and candidate engagement platforms to Recruiter.com. The acquisition includes

Finalist

, an online marketplace for sourcing and screening diverse early-professional software and data candidates, and Uncubed's job board technology and candidate engagement platform, which includes

Mediabistro, the leading job board and professional community for media, content, and creative professionals. Read more about the acquisition here.
Recruiter.com also reached a new milestone: more than 30,000 members in our on-demand recruiter network.

"With over 200 recruiters currently on assignment with our clients, we have seen rapid adoption of our on-demand model, which gives employers on-tap recruiters when they need help hiring," said Evan Sohn, CEO of Recruiter.com. "We look forward to continuing to increase our percentage of engaged and on-assignment recruiters as Recruiter.com grows its client base and opens new verticals."

Xuan Smith, who joined Recruiter.com following the acquisition of Upsider.ai, became the company's new Chief Technology Officer (CTO). Founder and former CTO Ashley Saddul moved into the role of Chief Web Officer.
Recruiting Industry Investments / M&A Activity
Must-Read Reports
Great Resignation or not, the majority of U.S. employers plan to add new positions in the second half of 2021, according to Robert Half. (source)
Despite recent gains, the hospitality industry is still struggling. Nearly 500,000 of the jobs lost during the pandemic will not return before the year is up, according to a new report from the American Hotel & Lodging Association. (source)
Nearly half of unemployed job seekers say they can't find the right jobs in today's market. (source)
Company News
Talent solutions provider Aerotek is separating its three specialized business units into three independent operating companies: Aerotek, Aston Carter, and Actalent. (source)
Career Club launches new career and networking application Career Club ONE. (source)
Recruiting and talent development solutions provider Cappfinity expands to the U.S., launches new pre-interview assessment, Tempo. (source)
Eightfold AI and Checkr, Inc., partner to create comprehensive hiring platform. (source)
Freelancer management platform Stoke extends payroll and compliance solutions to international employees. (source)
Legal and Regulatory Updates
Are you interested in having your company featured in this recruiting industry report? Send an email to our editor, matthew@recruiter.com, with your company's news or announcements. Our regular publication, RecruiterToday, also features thought leadership from recruiting and talent acquisition professionals and accepts content contributions.