To all of the recruiters in the Recruiter.com network - thank you for your participation with us! Today, we are excited to announce new features on the Recruiter.com Job Market platform. These enhancements will change the way that recruiters submit and manage their candidates, so it's an important development.
We're proud to continue to enhance the Job Market platform and hope that this is a useful and successful update for recruiters and employers alike.
New Features and their Benefits
1. Job Sharing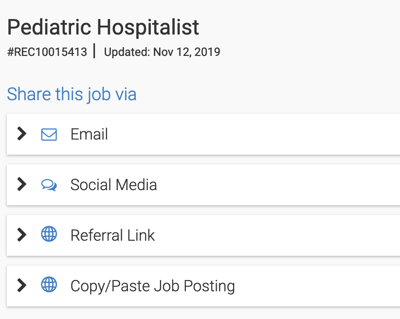 Now, you can easily share jobs with your network! Grab a personalized link for any of the jobs available to you in your dashboard and invite anyone in your network to apply. You can share on social networks, email lists, or send to people one-to-one.
When candidates apply to your job invitation link, they will be tracked to the recruiter's personal account and appear in their dashboard.
Tip: If you have your own candidate database or recruiting CRM, you're now able to first narrow down a list of relevant candidates in your system using Boolean or other filters, and then quickly send these candidates your personal application link to the job on Recruiter.com.
2. Submitting and Managing Candidates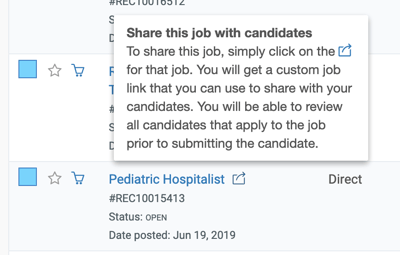 Submit a candidate simply by adding their email address. The candidate will then receive an invitation to apply to the job. You then finish up the process by writing up the candidate submission note and sending it in. This helps with two things: it guarantees that all candidates are giving their permission to be submitted, and it allows recruiters to manage their interested candidates from within Recruiter.com.
Tip: When invited to apply to a position, candidates will see a quick overview of your Recruiter.com recruiter profile. Make sure your Recruiter.com profile is up to date with a picture (that you like!) and your most up to date job title and company branding.
Watch for further training videos, information, and webinars on the Recruiter.com Job Market platform during the coming weeks. As always, if you have any questions about the platform or the new candidate submission process, please contact our help desk or feel free to schedule a 1-on-1 call with your Recruiter Engagement Manager to drive your success with the platform.
To learn more about our exciting developments at Recruiter.com, including our new healthcare vertical and Recruiters on Demand solution, I also invite you to check out our recent company update for January.