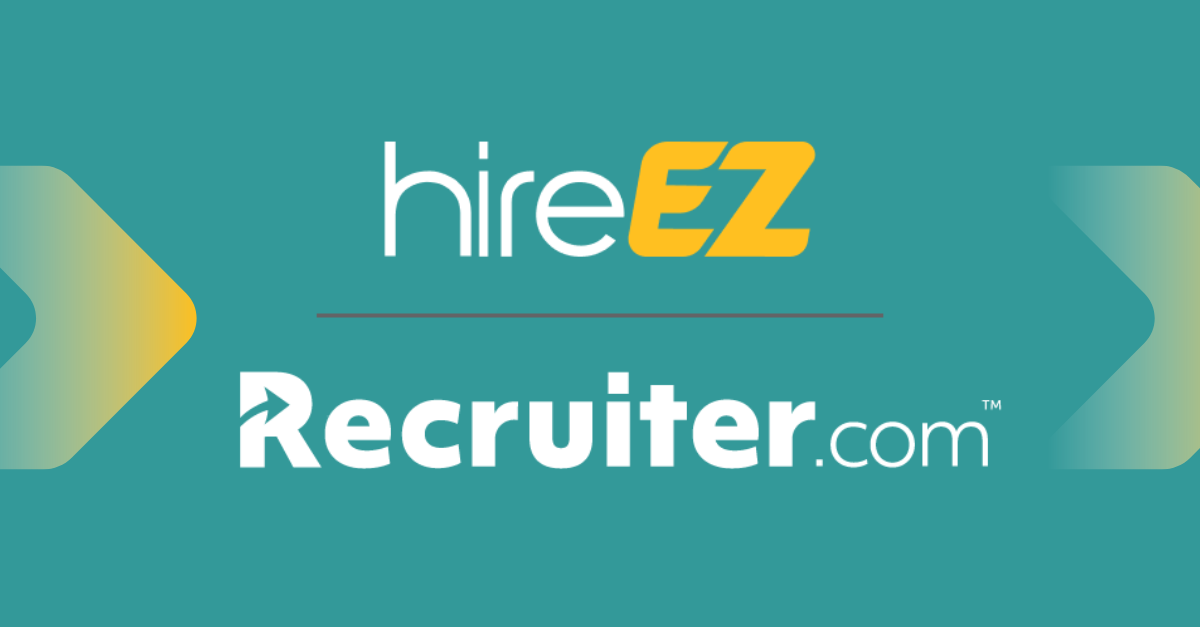 Recruiter.com Group, Inc. (NASDAQ:RCRT)(NASDAQ:RCRTW) ("Recruiter.com"), a forward-thinking on-demand recruiting solutions company, is proud to announce a strategic partnership with hireEZ, the award-winning outbound recruiting platform. With hireEZ's innovative technology and Recruiter.com's extensive network of OnDemand recruiters working together, both organizations aim to provide the recruitment industry with an elevated level of efficiency and effectiveness when hiring talent.
"This partnership will allow us to provide a comprehensive solution to our clients, streamlining the talent acquisition process and connecting them to top talent faster and more efficiently," said Steven Jiang, CEO of hireEZ.
"Partnering with hireEZ is a huge step forward in our quest to improve the recruitment process and better serve our clients," said Evan Sohn, CEO of Recruiter.com. "We're confident this strategic collaboration will deliver a new level of advanced and efficient recruitment solutions to the market."
The partnership offers a seamless and integrated talent acquisition solution, from sourcing and attracting top talent to final placement, empowering the best delivery of overall talent to clients.
"Think of this as adding Geek Squad to the recruiting industry's most innovative outbound recruiting platform," continued Sohn. "From healthcare workers, factory workers, software engineers, and business analysts, our OnDemand Sourcing, now powered by hireEZ, is already helping dozens of companies source and engage candidates worldwide. We're all very excited to help more customers while we continue to add more capabilities to help companies seamlessly and efficiently hire the best possible candidates for every one of their open positions."
As part of our commitment to driving innovation in the recruitment industry, hireEZ and Recruiter.com invite you to join us for a thought-provoking webinar on LinkedIn Live on February 22nd at 12:30 PM EST. During the session, titled 'Keeping Up with your Talent Needs Using Fewer Resources,' our experts will delve into the latest strategies and technologies to help organizations meet their talent acquisition goals while optimizing resources.
About Recruiter.com Group, Inc.
Recruiter.com is an on-demand recruiting platform providing flexible talent acquisition solutions that scale from startups to the Fortune 100. With an on-tap network of thousands of recruiting professionals and recruitment marketing automation, Recruiter.com helps businesses solve today's complex hiring challenges.
For investor information, visit https://investors.recruiter.com
Please follow social media channels for additional updates:
LinkedIn Recruiter Network Group: https://www.linkedin.com/groups/42370/

LinkedIn Company Page: https://www.linkedin.com/company/1240434

Twitter Company Page: https://twitter.com/recruiterdotcom

Facebook Company Page:

https://www.facebook.com/RecruiterDotCom
About hireEZ
hireEZ is the award-winning, end-to-end outbound recruiting platform with access to 800M+ candidates from 45+ open web platforms, market insights to build strategic recruiting campaigns and candidate engagement capabilities to make outbound recruiting easy. With hireEZ, you can execute a strategically scalable approach to build your workforce of the future. For additional information, please visit https://www.hireez.com.
Cautionary Note Regarding Forward-Looking Statements:
This press release contains forward-looking statements within the meaning of the Private Securities Litigation Reform Act of 1995. The words "predict" "forecast" "believe," "may," "estimate," "continue," "anticipates," "intend," "should," "plan," "could," "target," "potential," "is likely," "will," "expect" and similar expressions, as they relate to us, are intended to identify forward-looking statements. We have based these forward-looking statements primarily on our current expectations and projections about future events and financial trends that we believe may affect our financial condition, results of operations, business strategy, and financial needs. Important factors that could cause actual results to differ from those in the forward-looking statements include continued demand for professional hiring, the accuracy of the Recruiter Index® survey, the impact of the COVID-19 pandemic on the job market and the economy as virus levels are again rising in many states, and the Risk Factors contained within our filings with the Securities and Exchange Commission, including our Annual Report on Form 10-K for the year ended December 31, 2021. Any forward-looking statement made by us herein speaks only as of the date on which it is made. Factors or events that could cause our actual results to differ may emerge from time to time, and it is not possible for us to predict all of them. We undertake no obligation to update any forward-looking statements publicly, whether as a result of new information, future developments, or otherwise, except as may be required by law.