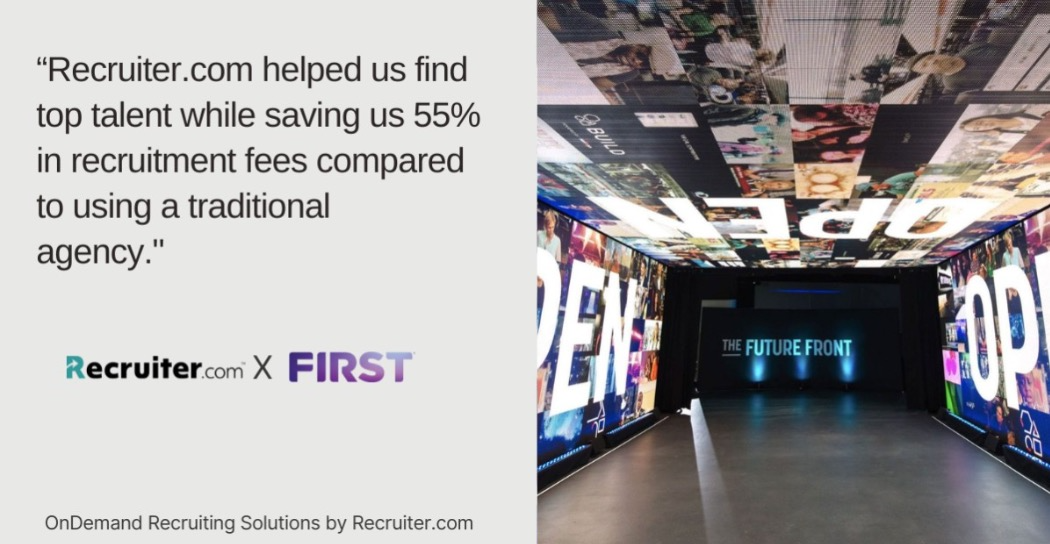 Recruiter.com Group, Inc. (NASDAQ:RCRT)(NASDAQ:RCRTW) ("Recruiter.com"), an on-demand recruiting platform, today announced a strategic client partnership with FIRST, a leading global brand experience agency, to help grow specialist talent on their client's team.
"Our partnership with Recruiter.com's OnDemand Recruiting program has been nothing short of transformative," said Maureen Ryan Fable, CEO of FIRST. "We can confidently say that the OnDemand Recruiting program has been a game-changer for our company, and we are excited to continue this upward momentum."
"Since its launch in January 2022, this innovative program has not only supported 114 job openings across 51 different roles with an impressive fill rate of 70%, but it has also been able to adapt to our company's ever-changing needs. The number of OnDemand Recruiters flexed between one and five throughout the year to meet demand, and the OnDemand Sourcing program generated an invaluable pool of 1,200 interested candidates for us to choose from. Not only has this partnership helped us find top talent, but it has also saved us over 55% in recruitment fees compared to using a traditional agency."
FIRST is a leading brand experience agency with a global presence, serving clients in various industries, including financial services, technology, media, consumer electronics, medical and healthcare, automotive, aerospace, and the nonprofit sector. FIRST has received numerous accolades, including being named one of the Top 150 Event Organizers & Agencies in the USA by Eventex, being listed among the "200 Top Marketing Agencies" in 2023, 2022 & 2021 by Chief Marketer, being recognized as one of the "50 Top Event Companies" by Special Events, being included in the Top 100 "Best Places to Work in NYC" by Crain's New York Business, and being listed as one of the "1000 Companies to Inspire Britain" by The London Stock Exchange Group.
Evan Sohn, CEO of Recruiter.com, expressed his excitement about the continued partnership, stating, "We are honored to be joining forces with such a highly regarded brand experience agency as FIRST. Through our OnDemand Recruiting and Sourcing solution, we aim to continue to bring top-notch specialized talent to their clients and help them achieve their growth objectives for 2023."
About Recruiter.com Group, Inc.
Recruiter.com is an on-demand recruiting platform providing flexible talent acquisition solutions that scale from startups to the Fortune 100. With an on-tap network of thousands of recruiting professionals, advanced artificial intelligence sourcing software, and recruitment marketing automation, Recruiter.com helps businesses solve today's complex hiring challenges.
For investor information, visit https://investors.recruiter.com
Please follow social media channels for additional updates:
LinkedIn Recruiter Network Group: https://www.linkedin.com/groups/42370/

LinkedIn Company Page: https://www.linkedin.com/company/1240434

Twitter Company Page: https://twitter.com/recruiterdotcom

Facebook Company Page: https://www.facebook.com/RecruiterDotCom
Cautionary Note Regarding Forward-Looking Statements:
This press release contains forward-looking statements within the meaning of the Private Securities Litigation Reform Act of 1995. The words "predict" "forecast" "believe," "may," "estimate," "continue," "anticipates," "intend," "should," "plan," "could," "target," "potential," "is likely," "will," "expect" and similar expressions, as they relate to us, are intended to identify forward-looking statements. We have based these forward-looking statements primarily on our current expectations and projections about future events and financial trends that we believe may affect our financial condition, results of operations, business strategy, and financial needs. Important factors that could cause actual results to differ from those in the forward-looking statements include continued demand for professional hiring, the accuracy of the Recruiter Index® survey, the impact of the COVID-19 pandemic on the job market and the economy as virus levels are again rising in many states, and the Risk Factors contained within our filings with the Securities and Exchange Commission, including our Annual Report on Form 10-K for the year ended December 31, 2021. Any forward-looking statement made by us herein speaks only as of the date on which it is made. Factors or events that could cause our actual results to differ may emerge from time to time, and it is not possible for us to predict all of them. We undertake no obligation to update any forward-looking statements publicly, whether as a result of new information, future developments, or otherwise, except as may be required by law.
SOURCE: Recruiter.com Group, Inc.