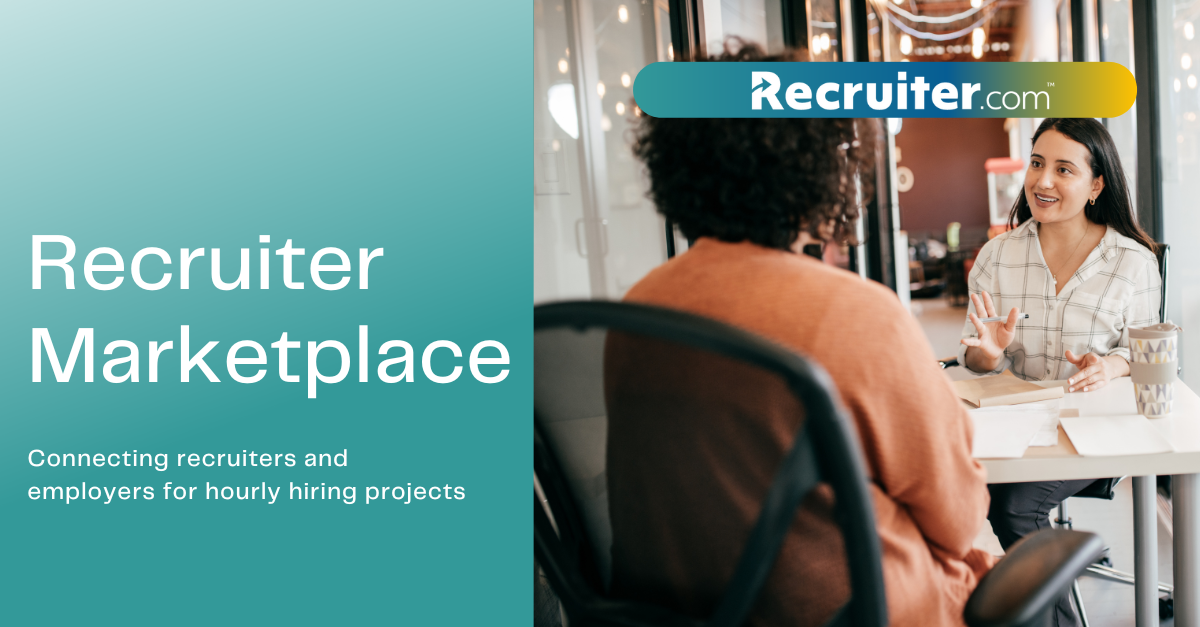 Recruiter.com is pleased to announce the launch of the Recruiter Marketplace, a pioneering platform to transform the talent acquisition landscape. The platform connects employers with vetted freelance talent acquisition professionals by leveraging automation, offering unmatched flexibility, cost savings, and access to a global talent network.
With 46% of independent professionals planning to use an online talent platform to find work over the next 12 months, talent platforms are becoming an increasingly important part of the economy. The Recruiter Marketplace allows recruiters to engage with employers on a flexible project-by-project basis. This on-demand solution allows businesses of all sizes to efficiently scale hiring efforts up or down as needed, providing a competitive edge in today's fast-paced market.
Evan Sohn, CEO of Recruiter.com, shared, "Our recently announced partnership with Job Mobz created an operationally-light royalty stream and continued our ability to service enterprise recruitment solutions. Launching our OnDemand Recruiter Marketplace now offers a self-service option for the SMB market and enterprises that need fractional recruiters. These technology-enabled initiatives transform our business with higher gross margin revenue opportunities."
Having delivered OnDemand Recruiting for enterprise clients like Zoom, Pfizer, Moody's, Cerner, Goldman Sachs, State Hospitals, Law firms, and many top startups and small businesses, Recruiter.com has built an extensive database of talent acquisition professionals, many of whom are available to provide fractional recruiting services. By providing access to recruitment professionals at various price points and eliminating overhead expenses, this platform may offer a more economical alternative to traditional RPOs or in-house recruitment teams.
This game-changing platform grants businesses access to a global network of talent acquisition professionals, offering extensive skills, expertise, and industry knowledge. Companies can handpick the perfect talent acquisition professionals for their hiring needs, regardless of location or niche. With the ability to quickly assemble a team of experts, organizations can initiate the hiring process without delay.
Customized solutions are a crucial advantage of the Recruiter Marketplace. Companies can choose talent acquisition professionals based on their unique skills, experience, and industry knowledge, ensuring the perfect fit for each project or role. This tailored approach enables organizations to address their hiring needs and challenges effectively. To facilitate the discovery of recruiters with modern tactical knowledge, Recruiter.com is also adding toolset skill filtering, for leading tools such as ChatGPT, hireEZ, LinkedIn, and other recruiting tools, allowing the business to engage the right recruiter with the right tools.
The Recruiter Marketplace platform grants access to cutting-edge technologies and best practices in recruitment. By engaging with freelance talent acquisition professionals, businesses can benefit from innovative tools and strategies that enhance the efficiency and effectiveness of the hiring process. The Recruiter Marketplace also allows in-house recruitment teams to concentrate on high-priority tasks and strategic initiatives. With the streamlined hiring process offered by on-demand freelance marketplaces, overall productivity, and employee engagement are significantly improved.
"Recruiter.com's Recruiter Marketplace is a revolutionary platform," continued Sohn, "It offers a more flexible and cost-effective solution than traditional RPOs. In today's unpredictable economic climate, embracing the Recruiter Marketplace could be the key to maintaining agility, staying competitive, and thriving in a changing and challenging environment."
To experience the beta version of the Recruiter Marketplace as either an employer or a recruiter, visit https://ondemand.recruiter.com.
About Recruiter.com Group, Inc.
Recruiter.com is an on-demand recruiting platform providing flexible talent acquisition solutions that scale from startups to the Fortune 100. With an on-tap network of thousands of recruiting professionals and recruitment marketing automation, Recruiter.com helps businesses solve today's complex hiring challenges.
For investor information, visit https://investors.recruiter.com
Please follow social media channels for additional updates:
LinkedIn Recruiter Network Group: https://www.linkedin.com/groups/42370/

LinkedIn Company Page: https://www.linkedin.com/company/1240434

Twitter Company Page: https://twitter.com/recruiterdotcom

Facebook Company Page: https://www.facebook.com/RecruiterDotCom
Cautionary Note Regarding Forward-Looking Statements:
This press release contains forward-looking statements within the meaning of the Private Securities Litigation Reform Act of 1995. The words "predict" "forecast" "believe," "may," "estimate," "continue," "anticipates," "intend," "should," "plan," "could," "target," "potential," "is likely," "will," "expect" and similar expressions, as they relate to us, are intended to identify forward-looking statements. We have based these forward-looking statements primarily on our current expectations and projections about future events and financial trends that we believe may affect our financial condition, results of operations, business strategy, and financial needs. Important factors that could cause actual results to differ from those in the forward-looking statements include continued demand for professional hiring, the accuracy of the Recruiter Index® survey, the impact of the COVID-19 pandemic on the job market and the economy as virus levels are again rising in many states, and the Risk Factors contained within our filings with the Securities and Exchange Commission, including our Annual Report on Form 10-K for the year ended December 31, 2022. Any forward-looking statement made by us herein speaks only as of the date on which it is made. Factors or events that could cause our actual results to differ may emerge from time to time, and it is not possible for us to predict all of them. We undertake no obligation to update any forward-looking statements publicly, whether as a result of new information, future developments, or otherwise, except as may be required by law.