Insights and Predictions From the Recruiters, HR Professionals, and Talent Acquisition Experts on the Front Lines of the Job Market Today
The average recruiter sentiment saw a big jump this month after a two-month decline. Sentiment has surpassed the level it was at this time last year. Recruiter workload took a slight dip this month, with recruiters working on 19 roles on average.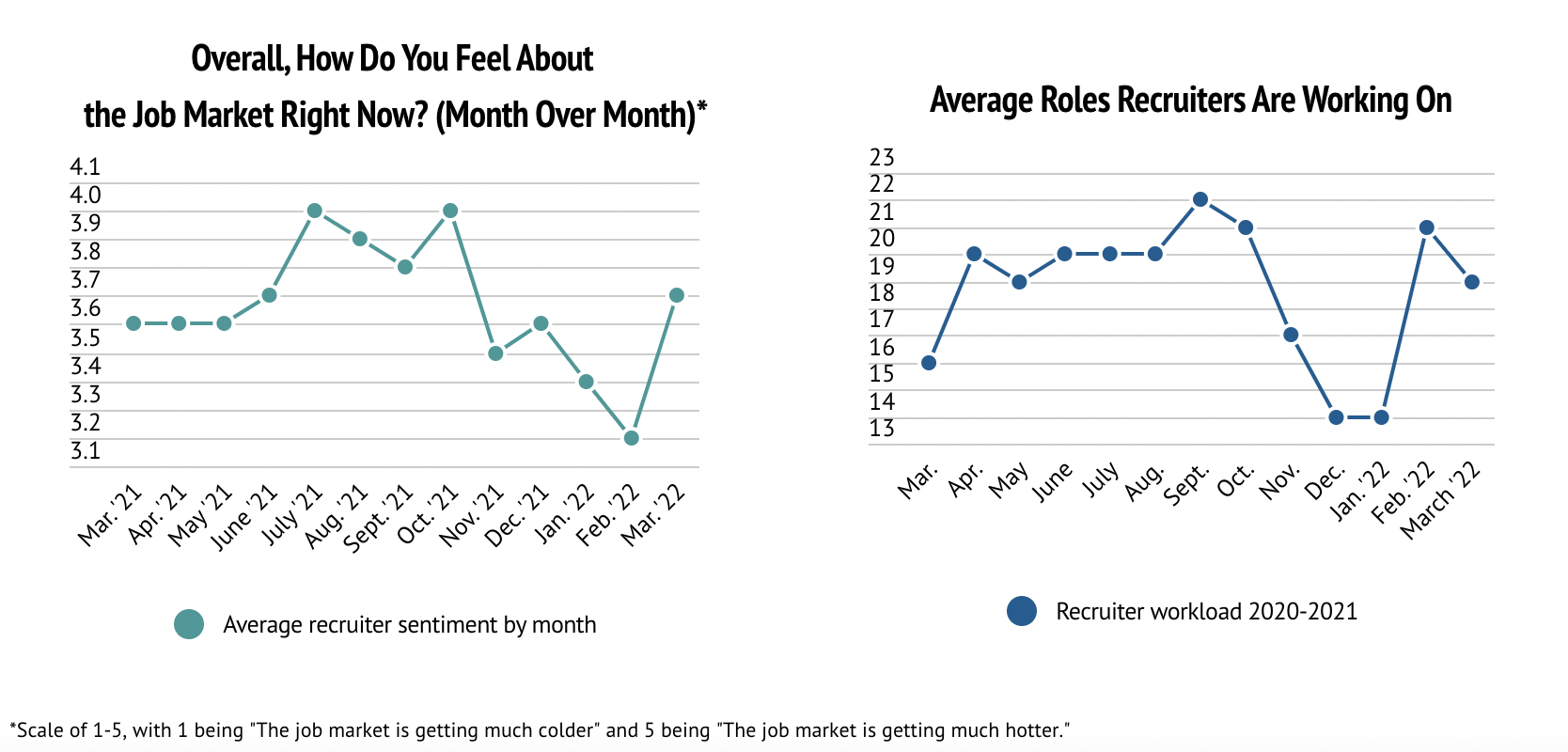 Candidate sentiment increased in March, however, remained shy of where it was this time last year. Nearly a third of recruiters saw applicant volume decline this month.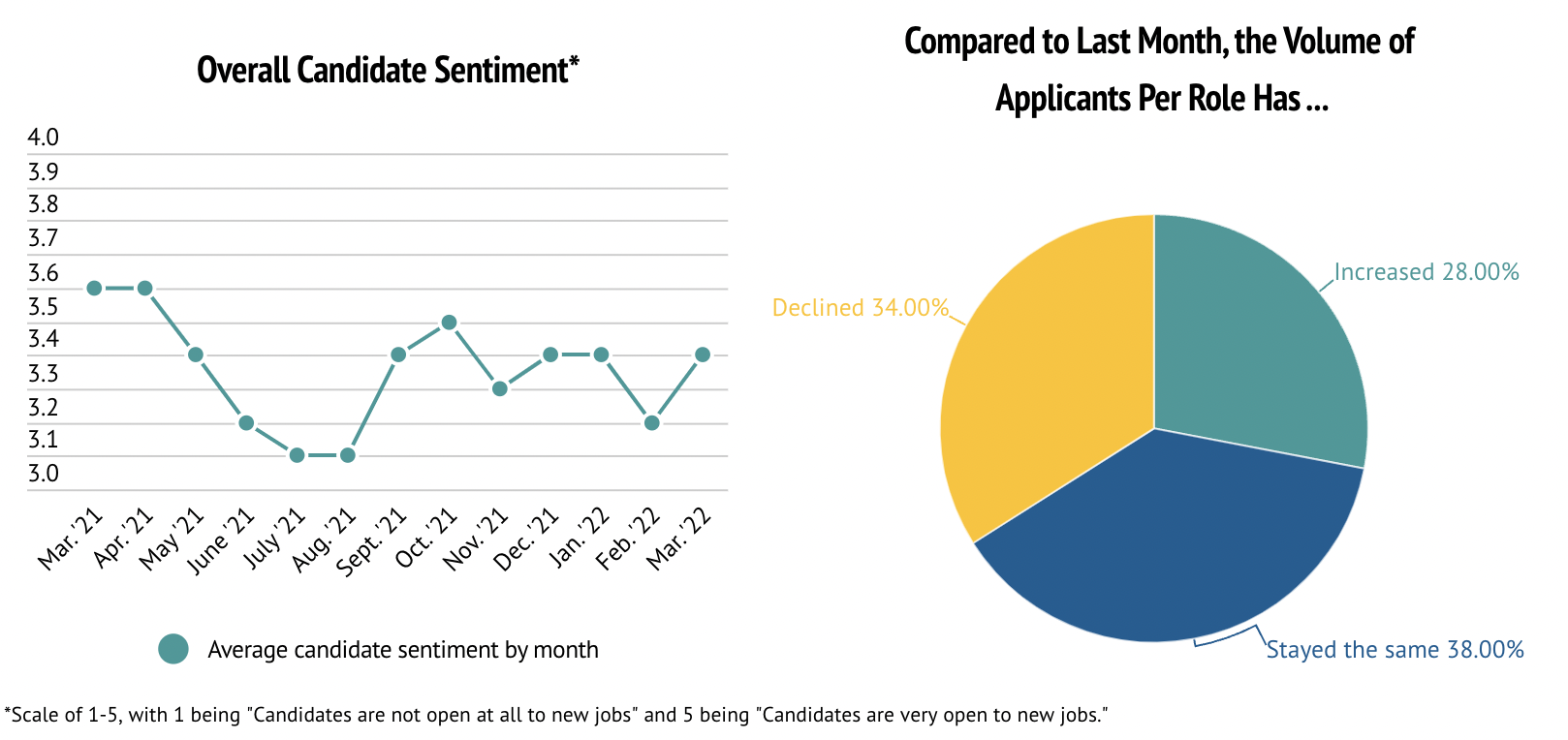 After months of remote roles dominating over hybrid and in-person roles, hybrid has taken over. with 38% of recruiters claiming that is what the majority of roles they are filling.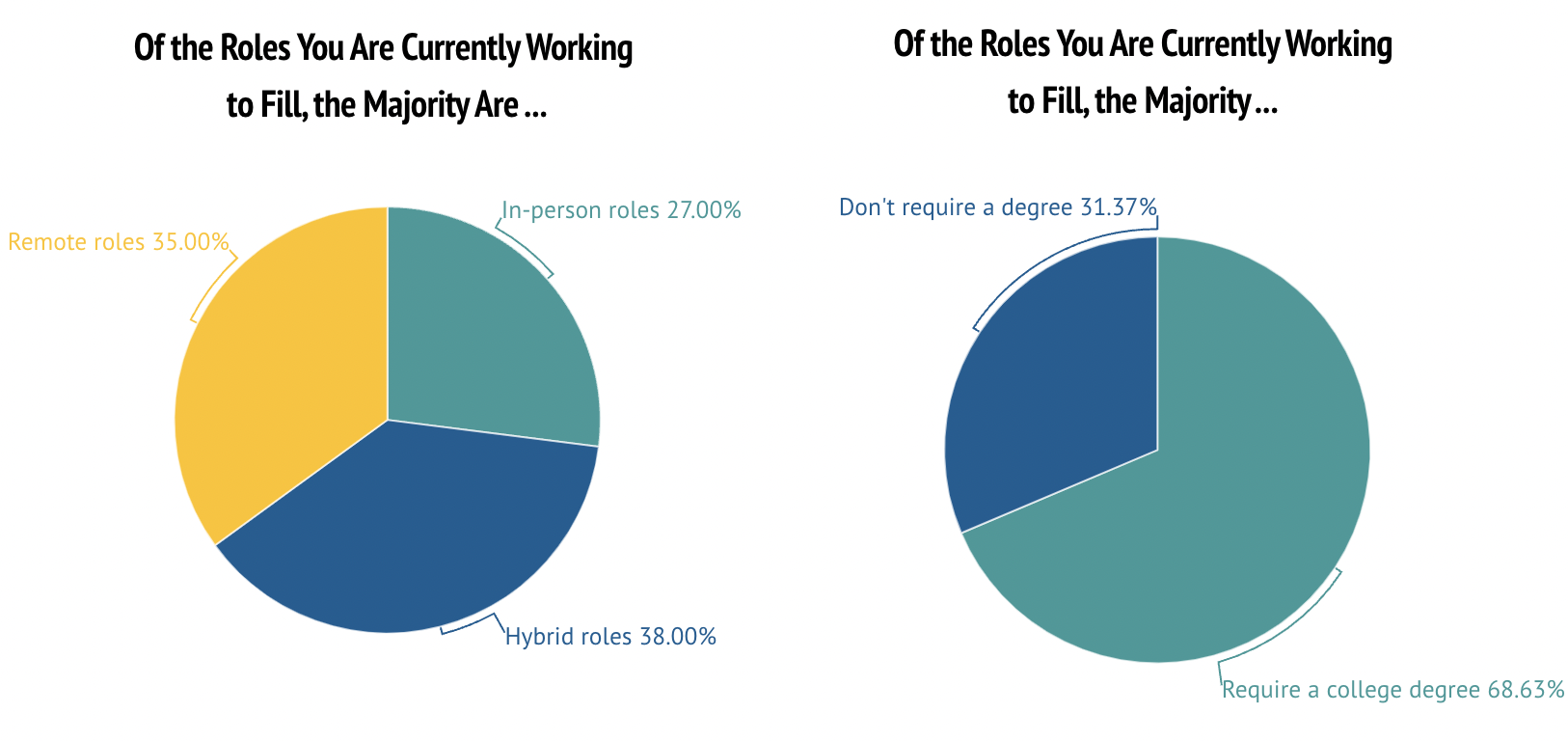 Our Recruiter Index tracks how many of the roles recruiters are working on are backfill vs. new roles. This month, on average, 22 percent of recruiters were working on brand new roles, a 42 percent decrease since February.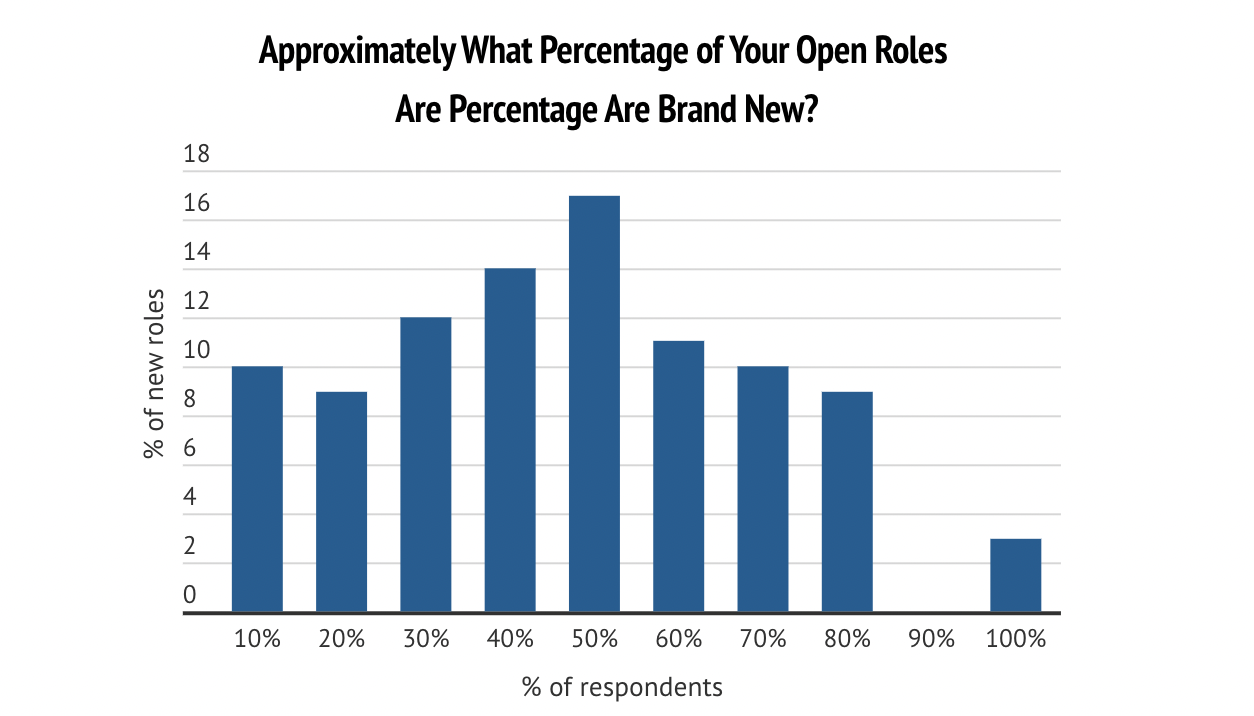 When looking at the priorities of candidates, remote work, work-life balance, and compensation continue to be the three driving factors. We found a strong correlation between those priorities and what leads an employee to leave a job. The number one reason was compensation (32 percent) followed by remote work (26 percent).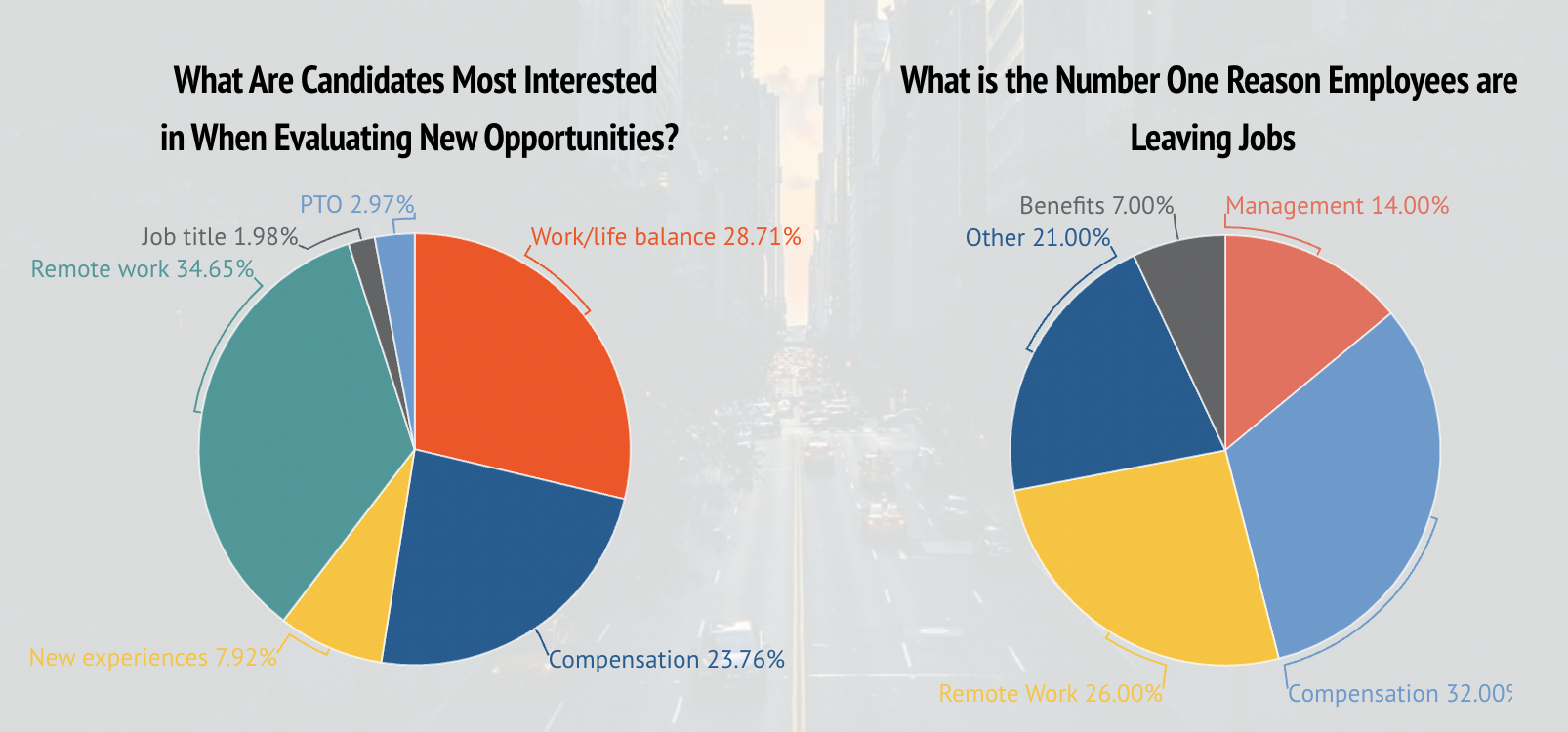 Majority of recruiters reported salaries remaining the same in March (65 percent), while nearly a quarter reported an increase in salaries. In terms of specific salary ranges, we saw increases in the ranges $80K-$100K (+2 percentage points), $100K-$150K (+8 percentage point), $150K-200K (+5 percentage points), and $200K< (+1 percentage point).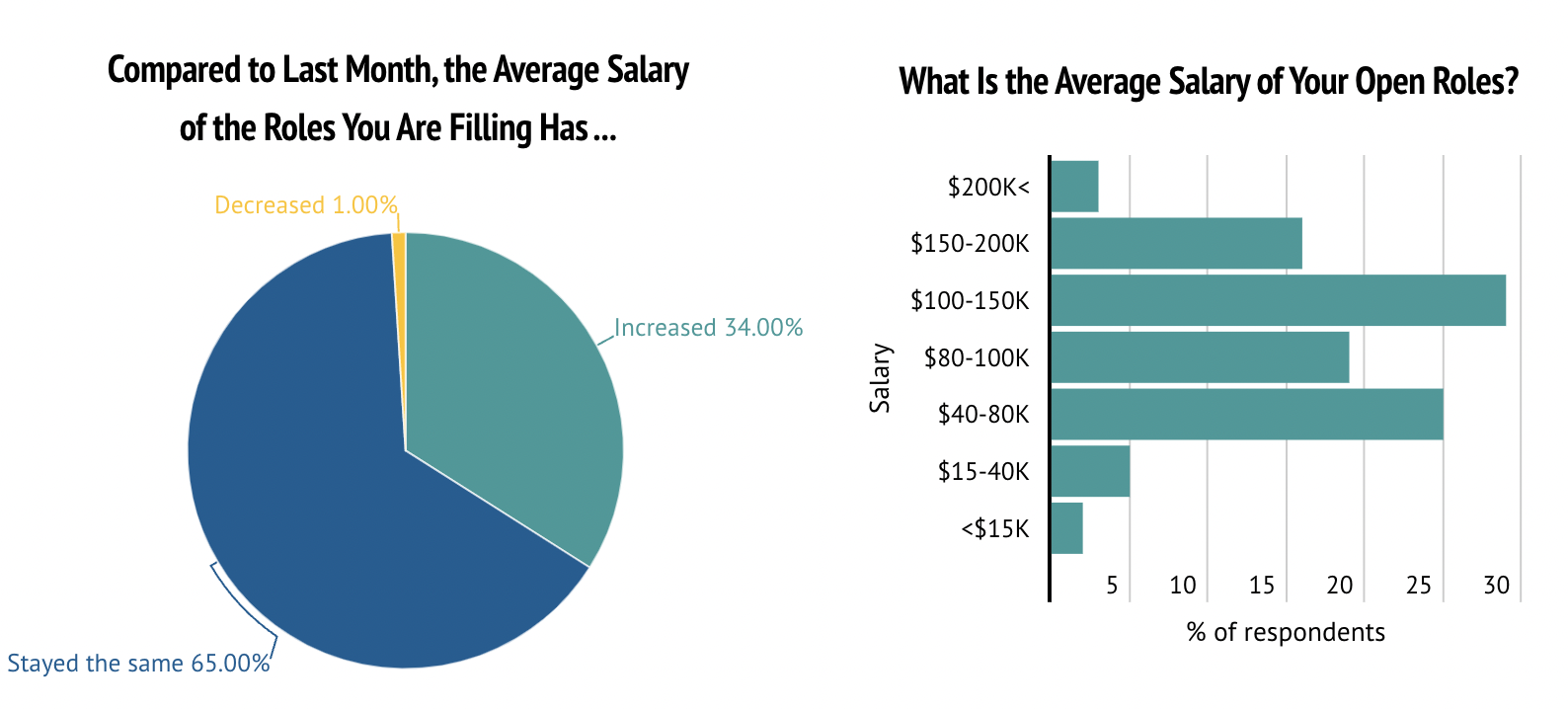 We asked recruiters across all verticals to identify the top three industries where demand for talent was highest in March. The demand for recruiting/staffing increased by 17 percent since February, jumping to the number two spot. After months of being bumped from the number one spot, IT is again the most in-demand industry, jumping 37 percent. Following IT is Recruiting/Staffing and Medical/Healthcare.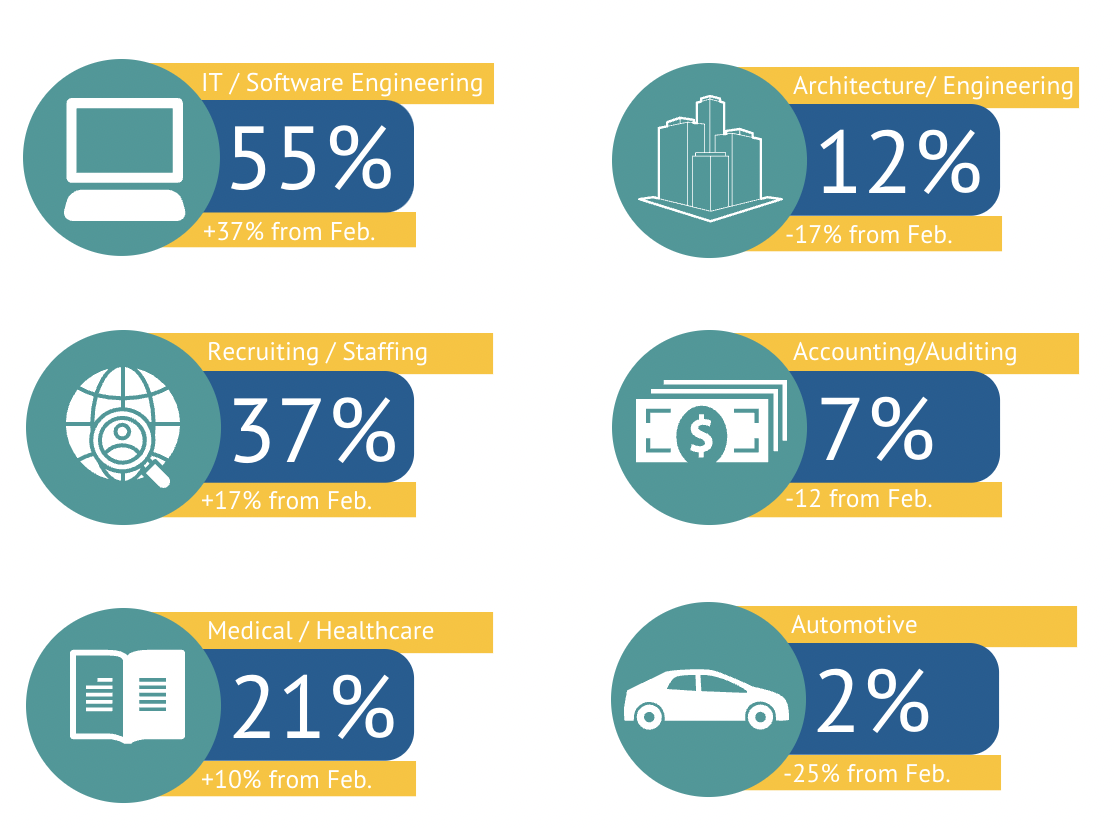 Key Takeaways
The average recruiter worked on 19 open roles in March 2022, a slight decline since February.

The average recruiter sentiment by month is calculated by asking how recruiters feel about the current job market. This month it witnessed an upward tick, currently at 3.7.

Candidate sentiment, a measure of how open candidates are to new roles, increased to 3.4.

Hybrid roles have overtaken remote roles and in-person roles, with 35 percent of recruiters working majority on hybrid positions.

Well over half the percentage of recruiters reported salaries remaining the same (65 percent), while only 1 percent of recruiters reported a decrease in salaries.

The amount of brand new roles recruiters are working on decreased by 42 percent.

Remote work continues to be the number one priority for candidates followed by work-life balance and compensation.

Compensation and remote work are the top reasons employees are leaving their current jobs.

The recruiting/staffing industry remains one of the top industries in demand, moving up to the number two spot.

Download the March Recruiter Index ebook here.