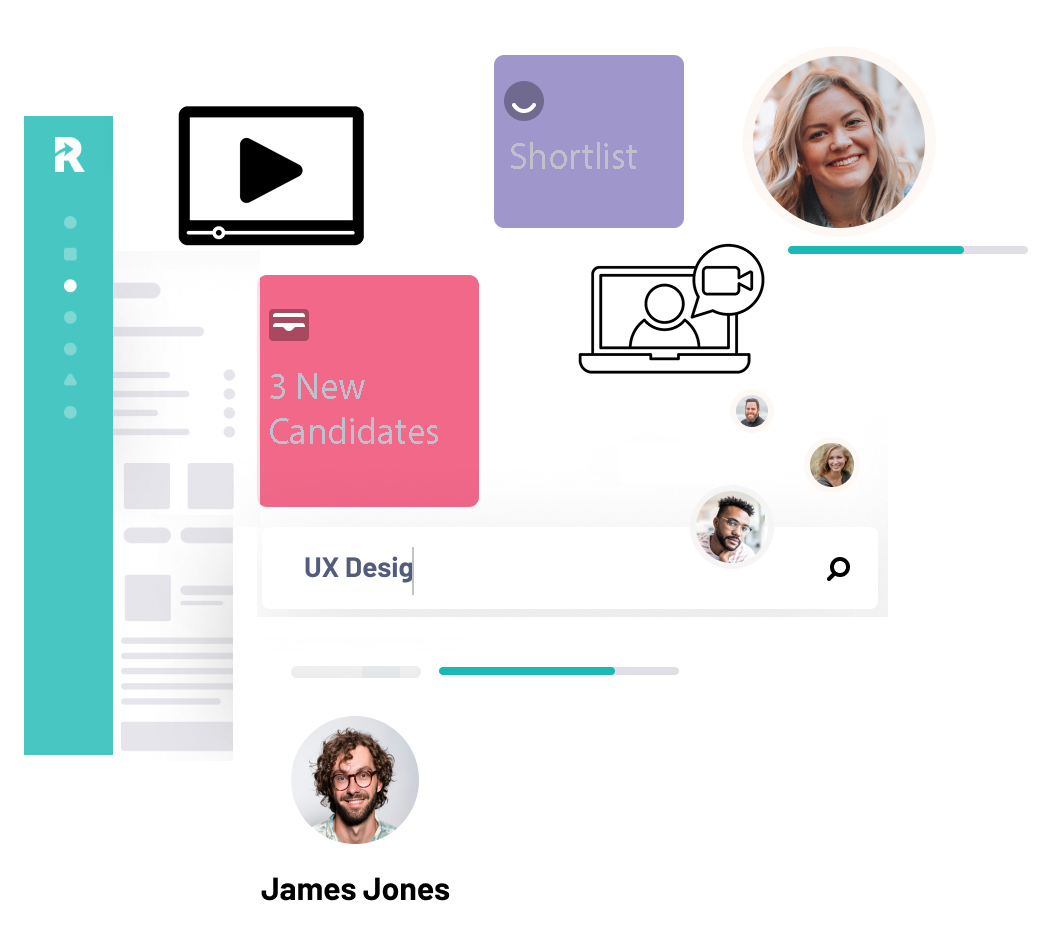 Today, we are excited to announce a significant upgrade to the Recruiter.com Job Market platform for recruiters, now including Recruiter.com video and AI-matched candidates. We're rolling out this upgrade on Friday and throughout the weekend, so please expect to experience it soon. Reach out to the community team with any questions, and be sure to join our live Q&A sessions next week!
A big thank you to all the recruiters who helped us test the platform. Your feedback was invaluable to the process. We designed this upgrade with you, our community of recruiters, in mind.
What's Changed
New design. Recruiters will find a completely reimagined design, color scheme, and layout. We wanted to make our platform engaging, easy to understand, and even a little fun. Our new design is clean and modern, and we hope you agree that it's a significant upgrade.
New technical infrastructure. Our server infrastructure, databases, and software environment are entirely different. You shouldn't necessarily notice this important behind-the-scenes stuff, but it does mean that job searches, managing candidates, and everything else you do on the platform should feel smoother, more responsive, and faster.
New ways to show you data. We're committed to putting as much information as we can front and center. We want to be the opposite of a black hole, with consistent transparency throughout the platform and immediate feedback. You'll find new data points, such as the total number of active recruiters and candidates associated with each job, and easier-to-understand fee structures right up front.
New ways to engage with the network. With over 27,000 recruiters on the platform, Recruiter is a community. With this release, we're adding many new ways to see other recruiters on the platform, plus a lot of fun new features, like leaderboards. With leaderboards, you can now work to become the top recruiter in your state or even country, and highlight this on your profile.
Feature Highlights
On-Demand Assignments: Set your availability for flexible recruiting projectsShowcase Your Profile: Create a rich, video-enabled recruiter profile

Search for New Jobs: Improved search allows for keywords and filters

Video Platform:

Stand out as a recruiting leader. Amplify your screening process with candidate videos.



See Your Metrics: Easily see your activity, ranking, and candidate statuses
What's Next
Video walkthroughs: More help navigating the updated platform from our Community Management team
Recruiter.com Video integration: Further integrations with candidate video functionality
Recruiter AI: Further integration with AI-matched candidate sourcing
Premium subscriptions: Feature your profile, access premium recruiting tools, and take advantage of new ways to earn
We're proud to continue rapidly enhancing the Job Market platform, and we hope this is a useful and successful update for our recruiter community. To all of the recruiters in the Recruiter.com network: Thank you for your participation with us!
Look out for more exciting updates in the coming weeks and months!