The US economy is still in the midst of recovering from the massive shock to its system that was the arrival of the COVID-19 pandemic, but one industry is in the midst of a hiring spree: mortgage. Due in large part to the recent refinancing boom, mortgage companies are in need of skilled talent to meet rising customer demand — and they need it now.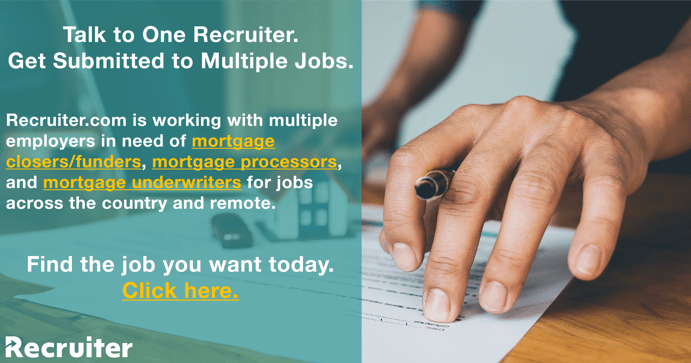 Recruiter.com and its network of 26,000+ small and independent recruiters are currently working with 10+ clients in the mortgage industry to place talent in a variety of roles across the country, include remote roles. Here's what we're learning from the experience — and what you, as a job seeker, can do to get in on this opportunity.
Have experience in mortgage underwriting, processing, or closing/funding? Click here to kick off your job search.
Underwriters, Processors, and Closers/Funders Are in Demand
The mortgage companies we're working with are seeking three roles in particular: underwriters, processors, and closers/funders. Here's what companies are offering for skilled candidates in each role:
Underwriters

For conventional underwriters, we're seeing base salaries in the $80-95K range.
DE underwriters are receiving base salaries in the $90-130K range.
Some employers are offering training programs to allow conventional underwriters to get DE certification.
Potential for sign-on bonuses and remote work.
Processors

We're seeing salaries in the $45-75K range, plus per-file bonuses.
Potential for remote work.

Closers/Funders

We're seeing salaries in the $42-75K range, plus per-file bonuses.
For funding coordinator roles, compensation comes in at $18.50/hr, with a per-file bonus.
Potential for remote work.
There's Something for Everyone
Talent is in high demand in the mortgage space, which means employers are pulling out all the stops to attract and retain the candidates they need. Whether you're early in your career or established, prioritizing high pay or a positive culture, there's a mortgage company out there for you. Here are some of the perks and benefits on offer:
Compensation: Is high pay your top priority? Mortgage companies are offering generous compensation packages and bonus schemes that offer the chance to earn even more. Some of these organizations are even using automation and outsourcing to take the grunt work off of employees' plates, so they can manage more loans and earn bigger bonuses.
Stability: Looking for a gig for the long haul? Don't want to be "last in, first out" in the event of a downturn? Some mortgage companies are heavily invested in offering the culture and support their employees will need to achieve that stability.
Career Path: Want to sharpen your skills to move ahead in your career and earn even more? Employers are offering fast-track training for DE certifications and opportunities to advance into management roles.
Talk to One Recruiter, Get in the Door With Multiple Employers
With so many roles available from so many employers, it can be a bit difficult to know where to start. We can help with that.
At Recruiter.com, you can talk to one recruiter and be submitted for multiple roles with multiple employers. We'll work with you to understand what you're looking for and where your skills are a match, and we'll connect you with the employment opportunities that work best for you.
Interested in finding a great new job today? Click here to get started!