Recruiter.com's latest Recruiter Index® report found recruiter confidence at its highest level since the start of the pandemic. That optimism is driven, in part, by a handful of industries seeing tremendous demand for talent, even as the U.S. economy has not yet fully recovered from the COVID-induced downturn.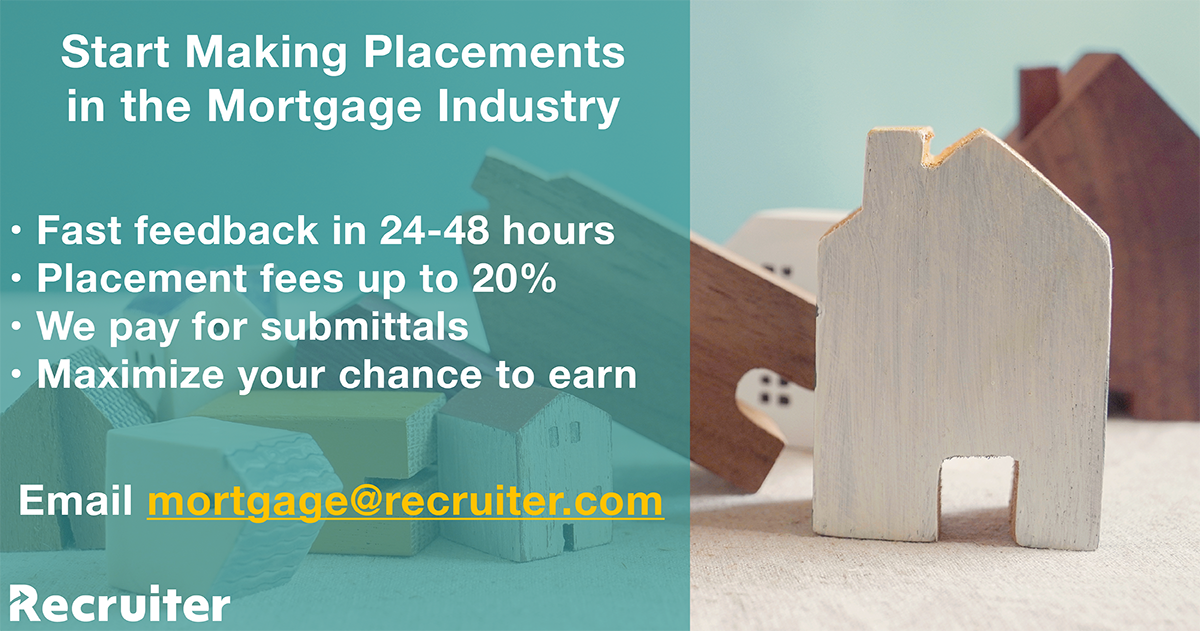 One of those industries is mortgage, where a refinancing boom is fueling surging demand for mortgage underwriters, mortgage processors, and mortgage closers/funders. As companies find themselves in need of qualified mortgage professionals, many are turning to small and independent recruiters for help.
Maximize your chances to earn. Email mortgage@recruiter.com to start making placements in the mortgage industry today.
Find One Candidate. Submit to Multiple Companies. Boost Your Placements.
Recruiter.com is currently working with 10+ clients in the mortgage industry, all looking for qualified underwriters, processors, and closers/funders. We're leveraging our massive network of 26,000+ small and independent recruiters to connect these companies with top candidates, and recruiters have a chance to maximize their earnings in the process.
On the Recruiter.com Job Market Platform, recruiters can tackle job openings from each of our clients in the mortgage space, with placement fees ranging up to 20 percent. Because of the overlapping demand in this space, recruiters have a unique opportunity to make more placements and earn more fees: When you identify just one qualified candidate, you can submit them to multiple roles with multiple employers, thereby increasing the odds that your candidate is the right fit for a role.
Our goal at Recruiter.com is to get a fee for each candidate you give us, and we do that by connecting small and independent recruiters to the employers that could really use their help. Recruiter.com also pays for qualified submittals, driving your earnings even higher.
We're the Opposite of a Black Hole
Recruiters don't have to worry about their submissions sailing off into the void, either. Recruiter.com works with clients to facilitate fast feedback (24-48 hours) and offers within days. Quick turnaround, quick payouts. No waiting and wondering.
The mortgage industry is thriving, but the opportunity won't last forever. Strike while the iron is hot.
Email mortgage@recruiter.com to start making placements in the mortgage industry today.