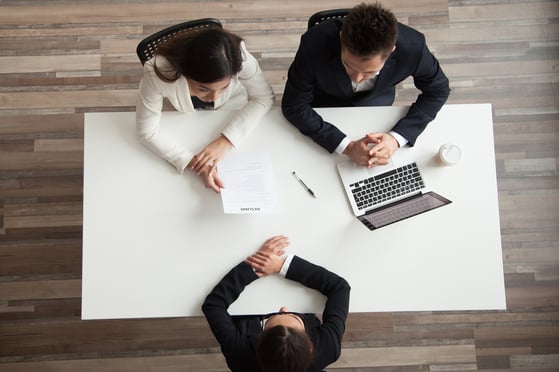 Client: A mid-sized staffing company specializing in high-volume hiring for enterprise customers.
Talent Demand: The staffing company's primary business model focused on filling high-volume roles, but clients were increasingly asking for help with highly technical roles requiring specialized skill sets. The staffing company's existing pool of recruiters did not have the bandwidth to take on these time-intensive searches, nor did they have experience recruiting for these niche roles.
Types of Positions: A number of current and potential clients needed help finding specialized talent, but this kind of recruiting fell outside of the staffing firm's traditional business model. While the firm did not want to turn down the opportunity to expand its revenue streams, it did not make financial sense to hire a new team of recruiters specifically to handle these roles.
Recruiting Solution: The staffing firm partnered with Recruiter.com's network of 25,000+ independent recruiters to find recruiters who specialized in the relevant technical fields. The staffing firm worked with Recruiter.com on a per-placement basis, allowing the company to utilize the expertise of specialist recruiters as needed, rather than hiring new full-time staff members.
Result: The staffing firm was able to augment its core business model without hiring new full-time staff members. The staffing firm now actively solicits specialized roles in addition to its high-volume focus, leveraging Recruiter.com's network to fill these roles on an on-demand basis.
Flexibly Scale Your Staffing Company's Reach
The client had built a strong core business model around high-volume recruiting, and it had built a team of recruiters who were specifically trained to handle such placements. When opportunities to expand into niche recruiting presented themselves, the client wanted to take them. However, the client ran into two problems: These time-intensive searches would take its recruiters away from the core business model, and its existing recruiters did not have experience making specialized placements.
The client had the option to hire new full-time recruiters to handle specialized roles. However, the client was not sure how many specialized roles it would need to fill in the future. Therefore, hiring full-time employees would have been a significant investment with no guaranteed return. Instead, the client chose to partner with Recruiter.com's network on an as-needed basis. This allowed the client to leverage the skills of specialized recruiters only when needed, giving them the freedom to scale up or down depending on the level of demand at any given moment.
----
If you need to expand your staffing company's business model without increasing headcount, Recruiter.com has the expertise to deliver exceptional recruiting service on demand.
Contact Recruiter.com to augment your core staffing business today.