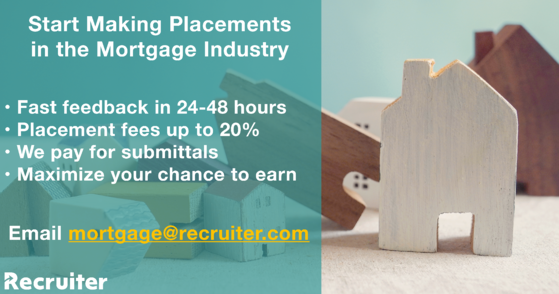 Every week, Recruiter.com throws the spotlight on one of the exciting organizations leveraging our network of 27,000+ small and independent recruiters to find the talent they need.
The Client: One of the five largest retail mortgage lenders in the US, hiring for multiple business units.
Our Client of the Week is a rapidly growing mortgage lender with a customer-centric approach and an innovative proprietary software that powers every transaction. The Company is looking for underwriters and closers across multiple business units, including retail, wholesale, and joint venture. The Client is already home to some of the top salespeople in the industry, and it has built more relationships with builders than any other company in the country.
Earn $25 per qualified submittal when sourcing candidates for our Client of the Week. Email mortgage@recruiter.com to get involved!
The Opportunity: Speedy Placements, Maximum Chances to Earn
Our Client moves quickly, prioritizing phone interviews and an all-around speedy process so the best candidates can be placed in the right seats as soon as possible. What differentiates our Client of the Week from other mortgage lenders is its emphasis on stability. It looks to give talented individuals a place to settle in and succeed for the long haul.
The Company is actively hiring for more than 100 roles, including:
Underwriters

2+ years of mortgage underwriting experience required

Up to $105,000 base salary

$5,000-10,000 sign-on bonus potential, plus additional bonuses

$2500/month ramp-up guarantee for first three months

Overtime available

Closers

1+ year of mortgage closing experience required

$24-$32/hour

$4,000 average monthly bonus

Overtime available
Recruiter.com is also working with 10+ other clients in the mortgage industry to place mortgage underwriters, mortgage processors, and mortgage closers/funders. That means recruiters can maximize their chances to make placements and earn money by submitting qualified mortgage professionals to multiple roles with multiple clients.
Recruiters, want to earn money by helping our Client of the Week fill open roles? Email mortgage@recruiter.com today.
Employers, get help filling your roles with Recruiter.com, leveraging the power of 27,000 recruiters and AI job matching. Learn more today.